Anniversary
Guy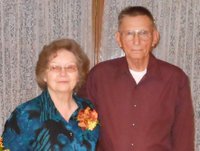 Jim and Genevieve Guy, Eudora, celebrated their 60th wedding anniversary Oct. 21 with a family dinner at their home.
They were married Dec. 8, 1951, in Columbus. They moved to Colorado before making Eudora their home in 1954.
The couple have a son, Alvie and wife Reta, McMinnville, Tenn.; three daughters, Charlene Conner and husband Ronald, Omaha, Neb., Lisa Stoltenow and husband Scott, Eudora, and Teresa Rosenthal and husband Michael, Overland Park; 11 grandchildren; 13 great-grandchildren; and two great-great-grandchildren.
Wedding
Phelps and Alvarez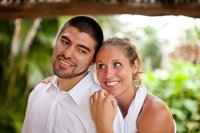 Libby Phelps, Topeka, and Logan Alvarez, Eudora, were married July 9, 2011, at Iberostar Cozumel in Cozumel, Mexico.
The bride is the daughter of Fred Jr. and Betty Phelps, Topeka.
The groom is the son of David Alvarez and Deana Alvarez, both of Eudora.
Bridesmaids were Bridget Lavaveshkul, Cheryl Bergman, Stephanie Phelps-Roper and Adrienne Birt. Groomsmen were Tyler Whitebread, Carlos Canizales, Maximillian Alvarez and Vincent Alvarez. A scripture reading was given by Tim Phelps. A sand ceremony was performed by Joshua Phelps-Roper.
A reception was given Aug. 20 at Steve's Place in Lawrence.
The bride is a graduate of Topeka West High School. She earned a bachelor's degree in health science from Washburn University and a doctorate in physical therapy from Kansas University Medical Center. She has been employed at Bloom & Associates since May 2008.
The groom is a graduate of Eudora High School. He attended Johnson County Community College and has been employed at UPS since March 2010.
The couple reside in Lawrence.