Engagement
Phelps and Alvarez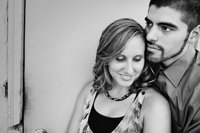 David Alvarez and Deana Alvarez, both of Eudora, announce the engagement of their son, Logan Alvarez, to Libby Phelps, both of Lawrence.
The future groom is a graduate of Eudora High School. He attended Johnson County Community College. He has been employed with UPS since March 2010.
The future bride is the daughter of Fred Jr. and Betty Phelps, Topeka. She is a graduate of Topeka West High School. She earned a Bachelor of Health Science degree from Washburn University and a Doctor of Physical Therapy degree from Kansas University Medical Center. She has been employed with Bloom & Associates Therapy since May 2008.
The couple plan a July 9, 2011, wedding at Iberostar Cozumel in Cozumel, Mexico.