Wedding
Durkin and Hellwig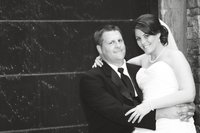 Jenny Durkin, Eudora, and Ryan Hellwig, Chetopa, were married May 20, 2011, at Our Lady of Lourdes Catholic Church in Pittsburg, with the Rev. Chad D'Arnold officiating.
The bride is the daughter of Don and Monica Durkin, Eudora.
The groom is the son of Gale and Linda Hellwig, Chetopa.
Maids of honor were Elizabeth Durkin and Audra Tope. Best men were Matt Hellwig and Nathan Blackledge. Bridesmaids were Mary Miller, Ellie Barta and Lindsay Halsey. Groomsmen were Neil Philpot, Justin Horton and Brice Scothorn. Flower girls were Lillian Hellwig, Brynn Hellwig and Samantha Handshy. Other attendants were Estelle Montgomery, Kyla Booth, Jill Blackledge, Ashley Kush, Cara Spriggs, Ashlee Matthews, Melissa McCoy and Traci Vapp. Ushers were Chris Durkin, Tim Durkin, Ben Miller and Chad Weeks.
A reception was given at Parrot Bey in Pittsburg.
The bride is a graduate of Eudora High School and Pittsburg State University. She is the director of publications and special events at PSU.
The groom is a graduate of Chetopa High School and PSU. He is an assistant football coach at PSU.
The couple reside in Pittsburg.