Anniversary
Homolka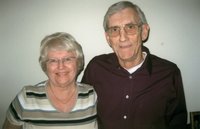 Kay and Jean Homolka, Eudora, will celebrate their 50th wedding anniversary with a reception from 2 p.m. to 4 p.m. Sunday at Redeemer Lutheran Church, 2700 Lawrence Ave.
The couple were married March 22, 1961.
Kay owned and operated K's Tire Service in Lawrence until he retired in March 2008.
They have a two daughters, Terri Humbert and Jeanna Linzer, both of Eudora; a son, Dennis, Topeka; 10 grandchildren; and two great-grandchildren.
The couple request no gifts.