Wedding
Musick and Wood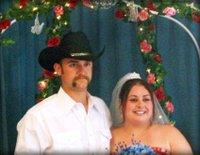 Autumn Musick, Eudora, and Joshua Wood, Lecompton, were married April 9, 2011, at Eudora United Methodist Church with the Rev. Steven Carlyle officiating.
The bride is the daughter of Robert and Anita Musick, Eudora.
The groom is the son of Burke and Susan Wood, Lecompton.
Maid of honor was Amanda Tice. Best man was Kyle Hertlein. Bridesmaids were Tiffany Musick and Ashley Jellison. Groomsmen were Nick Clearwater and Chris Wood. Ushers were Dustin Carlyle and Donald Musick.
The bride is attending Colorado Technical University and is studying for an associate degree in criminal justice.
The groom is employed with Hamm.
The couple reside in Linwood.