A mother's anguish
Eudora woman waits for abducted child to be found, returned
Five-year-old Miranda Budiman has a closet filled with new clothes. She has a stack of unopened Christmas presents waiting for her in a bedroom she has never seen.
And she has a mother who attempts to keep an air of normalcy in her own life by shopping for her little girl.
"I go shopping for her every once in a while because it makes me feel better," Tara Budiman said. "I bought her shoes the other day, but I have no idea what size she wears."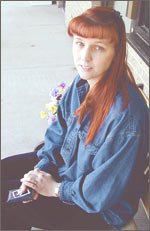 It stands to reason. Keeping up with a child's growth is next to impossible.
Besides, it's been nearly 18 months since Tara last saw Miranda.
Tara Budiman believes that while she was at work on Halloween morning 1998, her ex-husband Clements Iwan Budiman took Miranda. She has received no word from her daughter or ex-husband since, but Tara believes her ex-husband, a native of Indonesia, is in hiding there with Miranda.
Miranda's disappearance came while the family was living in a small town outside of Marietta, Ga., a suburb of Atlanta. Tara has since moved to Eudora to be closer to family in Lawrence. But the events of that fateful Saturday morning still haunt her.
"We were talking about getting back together," Tara said. "On Halloween, I got up early to go to work and they were going to carve the pumpkins and when I got home, we were all going trick-or-treating together."
However, when Tara got home, the house was empty.
"I knew in my heart at that moment, they were gone," she said.
A felony kidnapping warrant was issued in July for Clements Budiman. Miranda's profile was posted immediately by the National Center for Missing Children, but it wasn't until Tara went back to court and gained full custody of Miranda that the FBI was able to step in.
Now Tara floats aimlessly. Like a boat without a rudder, she is at the mercy of a force she cannot control. Her tear-streaked face tells a story of something no mother - no parent - should have to endure.
Hope is her only saving grace. She's never lost hope because she knows if she did, she would lose her reason for living. Her resolve is strong and her will simple: she will be reunited with Miranda someday.
"That's what keeps me going," she said. "I think it's the fact that she is coming back someday. I say when she comes back. Not if she comes back.
"Even if 20 years go by, she's going to find me. I know it. That's how close we are."
The FBI has an active file on the case. As soon as the child is located, it has told Tara it will travel to Indonesia to retrieve her.
Locating Miranda has proven to be a difficult task. Albert Schlaegel, president and founder of the Missing Children Investigation Center, Inc., has successfully rescued children kidnapped from non-custodial parents for free.
Tara has attempted several fund-raising endeavors to help pay some of Schlaegel's expenses. She also has set up an account - "The Bring Miranda Home" fund - at the Eudora branch of Douglas County Bank.
Schlaegel has connections in Indonesia, Tara said.
"We have someone in Indonesia," Tara said. "He believes he spotted them around December, but they took a Christmas trip. They put the house up for rent and no one has been back since."
Clements Budiman came to America to attend college when he was 18. He met Tara while the two were students at Truett McConnel College. They transferred to West Georgia University where each received a bachelor's degree - his in accounting and Tara's in psychology.
Clements Budiman, by virtue of his marriage to Tara, became a U.S. citizen in 1994. The couple divorced after eight years and, Tara finally believed she was getting her life back on track - a single mother raising a toddler - when her ex-husband approached her about reconciling.
"He came home and we were working things out," Tara said. "As it turned out, he tricked me. He just wanted to get Miranda's passport."
The passport issue makes Tara wonder. How is it, she asks, that a man with a felony arrest warrant is able to move freely in a foreign land on a U.S. passport that has no doubt been dotted with enough red flags to alert Indonesian officials?
"He's riding around on a U.S. passport," she said. "He has a little girl with him. He shouldn't be that hard to find."
But Indonesia, with more than 200 million people, is the fourth-most populated country in the world. In addition, the country is in political turmoil. It is facing its worst economic crisis in three decades after its currency plummeted and inflation and unemployment soared as a consequence of the wider economic crisis that struck east Asia last year.
Finding a man and a small girl might be akin to locating the proverbial needle in the haystack.
"I just have to wait until they find her - and they will," Tara said. "I should be up this morning taking her to school, doing the things that a mother does for her little girl."
To contribute to the "Bring Miranda Home Fund," visit the Douglas County Bank inside the C&S Market at 1402 Church Street.