Cardinals rally in opener to beat Osawatomie in 13; take nightcap
Jon Dunaway walked away from Eudora's first doubleheader with a huge grin on his face.
He had every reason: He was making his high school coaching debut. The Cardinals, after a couple of unforeseen delays, were finally on the baseball diamond and most important they managed to sweep a doubleheader on the road against Osawatomie last Thursday.
"It was incredible," Dunaway said. "Part of me would have been happy with just one. To come out with two wins is just a great feeling. I think we have the chance to compete anywhere.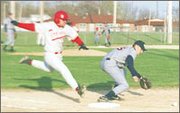 "The fate is in the hands of the players."
The Cards rallied from a 10-6 seventh-inning deficit to force extra innings and eventually win the opener, 14-12, in 13 innings.
Mark Elmer had two home runs and three RBI, while freshman Jerrad Born, making his high school baseball debut, hit a two-run homer in the 10th inning for Eudora. Senior shortstop Aaron Rose had four hits in seven trips to the plate and drove in three runs.
The pitching was better than Dunaway had expected. Elmer was credited the win.
"Our pitchers did a great job arranging the ball in the low part of the strike zone," Dunaway said.
The nightcap also proved successful for Eudora as the Cards came away with an 8-3 victory.
Junior Daniel Chrislip picked up the victory by striking out three and surrendering one walk. Osawatomie scored two runs on him in the third inning, but he breezed through unscathed in the remainder of his outing.
"In the second game, we were more relaxed," Dunaway said. "In the first, I think they had a bit of a jitterbug in them. But, they got it worked out and went in really relaxed and scored five runs right off the bat."
Eudora will host Paola Thursday at 4:30 p.m.
"They are young but very well-coached," Dunaway said. "We will have to play a tough game. We need to go in with the mentality that we are not going to give in to them.
"Winning at first really is a confidence-booster. "With the confidence, we can play with anybody in the league. The only thing is trying not to get too confident."