Eudora looks to bounce back
The first-game jitters Eudora High softball coach Grechen Freeland expected to see in the Cards' season opener never materialized.
Instead, they surfaced during Eudora's second game of a doubleheader in Osawatomie.
Just like that, all of the good feelings, the confidence and maybe the overconfidence that sweeping a season-opening doubleheader against Pleasant Ridge earlier in the week were washed away by an Osawatomie team that ripped through the Cardinals.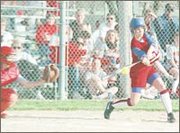 Osawatomie won the first game, 9-8, and followed it up with a 15-5 drubbing of Eudora in the nightcap.
The result is a 2-2 record after one week of the season.
"You always worry in the first game that they're not ready to go," Freeland said. "But we really were ready against Pleasant Ridge. Then, against Osawatomie, it looked like we were playing our first games of the season."
The defense let down junior pitcher Melanie Smith, who truly deserved a better fate Smith pitched well enough to win, but it seemed like each time Osawatomie needed a break, it got one.
"We made a lot of mental mistakes," Freeland said. "We couldn't quite get it going. They were a good hitting team. They were good at hitting it where we weren't."
Teams that can hit it away from the opposition usually have success.
Sophomore first baseman Karen Grossdidier is the perfect example of this theory In four games this year, she has collected a tea-leading nine hits in 15 trips to the plate a .600 batting average with two doubles and a triple.
Grossdidier had five hits in the doubleheader loss to Osawatomie, while shortstop Sheena Niedens had three hits and freshman Nicole Born two hits in the opener.
Two days earlier, the Cardinals swept a doubleheader from Pleasant Ridge, thanks to the pitching of Smith, who has pitched all four games Eudora thus far. She won the opener, 4-2, and then came back with a 6-0 shutout in the nightcap.
While not overpowering, Smith showed great command of the strike zone in the twin bill. In 14 innings of work ,she struck out nine and walked three.
Smith also helped her own cause at the plate with two hits in the opener and a single, double and triple in the nightcap. Grossdidier had two hits in each game.
The Cardinals, 2-2, travel to Paola Thursday for a doubleheader against a young Panthers squad that shows a lot of potential.