Eudora family feels effects of plant closing
When Terry McKenzie purchased his 1997 Chevy Blazer less than a month ago, he had no reason to believe he wouldn't be able to make the payments. He didn't think the remodeling work he began on his home would have to be put on hold. He didn't expect the job he had worked at for seven years wouldn't be ending anytime soon.
One week ago, he found out differently.
On Wednesday, April 5, McKenzie was notified his job as a press operator at Communicolor would soon be ending. Company officials told the 135 employees the direct printing plant will close in August, with the first layoffs beginning in June.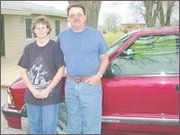 "I bought this new vehicle sitting outside and if I had known this was going to happen I wouldn't have," he said.
When Janice Jenks, McKenzie's common-law wife first heard the news, her first concern was the possible financial difficulty to come for her and her husband.
"It was very scary when he came home and said they're closing the plant down; we just bought a new car," she said.
With responsibilities in mind, McKenzie said he has already started his job search. Hes been submitting applications to area businesses in hope of securing future employment soon.
"I've been out looking for jobs," McKenzie said. "But I have to work there until I'm laid off, otherwise I won't get any severance pay."
Steve Thorton, plant manager, said the company is working on severance packages and should have all employees notified of the plans by the end of the week.
"We do have that defined and we're in the throes of defining that to our people," Thorton said. "I really can't talk about that yet, because we haven't spoken to all the folks. We've talked to some; we've still got a ways to go."
Thorton said employees would be relayed options of relocating to another plant, along with job fairs from both inside the parent company and its competitors. With the announcement of the available options, as well as the overall attitude of the workers, Thorton said the reaction is mixed.
"I think the response has been mixed because everyone's at a different level of working through the emotions," Thorton said.
Some of the mixed reaction may be from corporate procedures that accompany closing down a company. One procedure was that employees were notified to not talk to the media about the closing of the plant.
"I'm not allowed to talk about it," said Onis Bierman. "I've got too much severance pay coming to talk about it and go out there and fight it out. The word is, if you want a report you need to talk to Steve Thorton."
Thorton said that was standard for any shutdown.
"That's standard corporate media policy," he said. "That's just a corporate media policy that was already in effect and implemented here."
McKenzie said he was instructed not to talk about the issue as long as he was on company property. He also said there are other instances of corporate policy that has affected his co-workers attitude, aside from the job loss. He said a manual is on site about how to shut down the plant, and a security guard has been on the property since the announcement of the shutdown.
"They've got it down to where they have policies on how to shut down," McKenzie said.
Overall, McKenzie said he has enjoyed working for the company. He suffered a brain aneurysm while working there, and said his co-workers and employers were very supportive while he was recovering. Though he'll miss his friends and co-workers, he knows memories won't pay the bills.
"It's hard for a guy like him who's 50-years-old to get a job," Jenks said. "It hard to believe he has to start all over at 50.
In the meantime, he has no choice. McKenzie continues his search for another job, which he hopes he'll have until he retires. Something he thought he could do at Communicolor.
"I made a pretty good living there," McKenzie said. "I figured I could stay out there and hang out 15 years until I retired. I guess I figured wrong."
More like this story