Making huge strides
Eudora High junior captures gold in first two meets this year
In a world of trees, Brian Harris would be considered a sprout.
The Eudora High junior might be better suited for other track events, but he's taken the event given to him his freshman year the 300-meter intermediate hurdles and grown into it.
In two meets this year, he has two victories.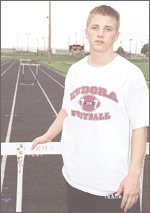 Not bad for a kid who is fudging when he claims himself to be 5-5.
Even better for a kid who has no idea how many hurdles it takes to complete the 300.
"I'm not sure," he said. "I could count them for you."
Not necessary, Brian.
Suffice it to say, few have gotten more out of so little.
"He's definitely not the prototypical hurdler," said Eudora coach Dave Durkin. "He's got decent speed, but his size works against him. The 300 is a punishing race. It's a sprint over hurdles and it's not a short sprint. He's kind of sadistic, I guess.
"Actually, I think he likes a challenge."
Indeed. Harris, at Durkin's request, inherited the event his freshman year.
"I didn't have a lot of events," he said. "Durkin told me to try it, that I might like it. Eventually, I got better."
But, prior to this year, Harris' success in the 300 hurdles would have to be considered marginal at best. He won a race here and there, but never one at an event like the Baldwin Invitational, which featured some of the best competition the Cardinals might see until later in the year.
Harris won the event in 42.11 a pretty good time made even better by the fact that he hit the last two hurdles. Now, with the track season beginning to hit its stride, Harris sees the real possibility of shaving a second or two off his time and being a viable threat for a medal at the Kansas Class 4A meet in Wichita next month.
"My goal is to at least make it to state," he said. "If I can get my time down to 41, I think I can go. A 40 would guarantee me (going). We'll see how it goes."
Through two meets Harris has left in his wake a long line of believers that he has what it takes to get to Wichita. His stature doesn't pose fear into the hearts of competitors at the starting blocks, but his performances have converted more than a few at the finish line.
"I think I have more endurance than most guys. They slow down before I do," he said. "I'm pretty much the smallest guy out there. I don't intimidate many people."
He remembered a meet last year when he was at the starting line looking up to another runner who asked him for his best time. Harris answered and the time turned out to be better than that of his questioner.
"He said, 'Man, I'm losing to a little kid,'" Harris said.
Harris is proof that the gold medal doesn't always go to the strongest or fleetest of foot. Durkin said sometimes there are other factors.
"He has the respect of the guys he runs against," Durkin said. "He attacks them. He goes after them. There's no fear there."