Seeing Red
Cards drop heartbreaker to Paola
Despite a strong effort through the first six innings last Thursday, the Eudora Cardinals were unable to win their home baseball opener against the Paola Panthers last Thursday.
"We outplayed them in every part of the game," coach Jon Dunaway said. "We pretty much had control through six innings. Then they hit a couple of Texas Leaguers."
One hit went about an inch over the second baseman's glove and scored the Panthers' run to seal a 7-5 victory for Paola.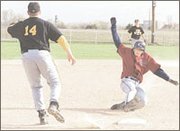 "That's what cost us the game," Dunaway said.
Brent Carnagie pitched 6 2/3 innings, allowing seven runs on six hits. Through six innings, he had faced 21 batters, just three over the minimum.
"We made all the plays quickly," Dunaway said. "We just didn't finish on a couple of hits."
"We had one inning that just did not go our way," Daniel Chrislip, junior, said. "We had good defense. It was just that one inning where they killed us. We played really well up to that point."
It was a tough loss to accept, made tougher by a 5-0 loss in the nightcap.
"When our confidence gets down, we tend to stay down," Chrislip said.
Chrislip took the loss, pitching four innings. He gave up five runs. Sophomore Ronnie
See Cards, Page 2B
Morlan, stepped in to close.
"It is hard to look the kids in the eye and tell them they played great when we just lost," Dunaway said.
But, he believes that the first game was a solid effort and that the second game was a strong defensive effort.
"It's hard to see the kids lose a game that they deserved to win," Dunaway said. "I am pleased with the way we are playing so far."
Aaron Rose and Andrew Pyle are leading the team in hitting with .500 batting averages. Chrislip is hitting .462 and Elmer has a .357.
"We have come a long way since last year," Chrislip said.
Eudora travels to Gardner-Edgerton. The Trailblazers are 4-4 thus far.
"We plan to play them tough," Dunaway said. "They do a lot of running and stealing, but I think we can hit their pitching."