Tax preparers earn their keep as April filing deadline approaches
Being late isn't necessarily a bad thing. Unless it's one of the busiest number-crunching times of the year tax time. For some local tax preparers, it's a given. There will be latecomers, and some will be helped. For others, it's time to be taxed and there's no room at the inn.
"Everyone's busy and they want to put it off until the last minute," said Leahann Snow, tax preparer. "Up to a certain point, I take anything and everything."
Operating Snow Bookkeeping and Tax Preparation, Inc. out of her basement for the past 11 years, the Eudora woman said she does what she can to help those who put off preparing their taxes. But those with complex filings and new filers with her business may need to look elsewhere.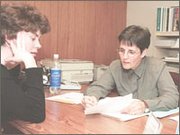 "I try to accommodate old clients first," Snow said. "I put a stop to new business about two weeks ago."
For those who work in two states, or own businesses, rental properties or have other needs which may need to be addressed with a lengthy filing, December was a good time to start, Snow said. But what about the latecomers with nowhere else to go?
"I refer them to a place designed to take walk-ins such as H&R Block," Snow said.
Jim O'Berg, Certified Public Accountant said he is asked yearly by filers to take on late business. Often, he said, he has no choice but to turn them away.
"I'll turn away business," O'Berg said. "I'll have some that will try to pressure me to do filings I don't want to do, but if I can't they'll have to go somewhere else."
There are other options.
For those with simple filings, free forms are available at the Eudora Public Library. Some may qualify for Telefile, a program provided through the IRS to file by phone. Those qualified were mailed a Telefile form.
"For the easy returns, it's just a matter of math," Snow said. "Unless you have something that is a little gray or needs additional preparation, I encourage people to do it," Snow said.
She also suggests tax preparation software for those with a computer and E-mail.
To help late filers procrastinate even longer; the deadline for taxes has been extended to midnight Monday because the standard tax day of April 15 falls on a weekend.
Eudora Postmaster Terry Crabbs said those waiting until late will have to take their mail to Lawrence for late-night mailings.
"I don't have the manpower or the employees to work until midnight," Crabbs said. "I suppose as Eudora grows we may expand in years to come. It's a pretty small problem for this size of town."
He said if experience has taught him anything, it's that procrastinators are as certain as death and taxes.
"Many, many, many people wait until the last minute," Crabbs said.