Grosdidier: A free-swinging sophomore
Unlike most hitters, Eudora High's Karen Grosdidier openly admits that when she steps into the batter's box, she is swinging for the fences.
Based on that criteria, this season has been an oh-fer for the sophomore first baseman.
She's come close on a couple of occasions.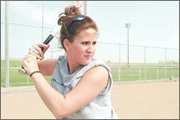 She's rattled the fence twice, but has yet to clear the 225-foot barrier at the Eudora softball field. With 12 games to go in the regular season, there are still many opportunities for Grosdidier to touch 'em all.
"I'll do it before the season is over," she said.
Fortunately for Grosdidier and the Cards, batting average isn't based on the same standard. While failing in her attempts to swing for the fences, she is succeeding in hitting it where the opposition isn't.
The sophomore had collected a team-leading nine hits in 15 trips to the plate this young season. She has leveled off in the last two doubleheaders, but remains the Cardinals' most consistent hitter this year.
"That's the best way to describe her she is consistent," said Eudora softball coach Gretchen Freeland. "She has had some big hits for us. A lot of the time, she has come through with singles with people on base to score runs for us."
Not as flashy as the long ball, but effective nonetheless.
Actually, Grosdidier's hitting prowess this season is a return on an investment. She spends many weekend mornings at a hitting school in Lawrence, honing her skills.
Swing after swing.
Hack after hack.
Call it sweat equity.
"It's what I feel I needed to do to get better," said Grosdidier, who got a taste of how good she needed to be when she left the Eudora summer program to join a Lawrence traveling team.
"I struggled the first year," she said. "It took time to adjust to the competition."
Now, the high school season serves as an appetizer for a smorgasbord of summer softball. She has practice one night a week, a doubleheader on another evening and tournaments on the weekends.
Last year, the Lawrence Vipers played 83 games and it helped make Grosdidier a better player.
"No question about that," Freeland said. "The kids who play during the summer get a lot of games and it makes them more confident players. Karen is a sophomore who has played a lot of softball."
The Cardinals, in the throes of a six-game losing streak, travel to Spring Hill Thursday for an important doubleheader with the always-tough Broncos.
"We are going to have to play better," Freeland said. "Spring Hill is a good team. We're not going to be able to make errors. We're going to have to make them earn everything they get."
The Cardinals dropped a doubleheader to Gardner-Edgerton last week, including a controversial decision in the opener when they thought the score was tied in the seventh inning only to find the Gardner-Edgerton scorebook the book of record showing the Trailblazers in the lead, 5-4.
"We were kind of upset over that," Grosdidier said. "We have a lot of potential on this team. We need to win a few games. It seems like once we get down by a couple of runs, we stay down. It could be the first inning. There might be a whole game to be played, but we tend to stay down.
"We need to fix that."
More like this story