Locals hope home-track advantage carries over to Cardinal Relays
If Friday's Eudora Invitational was any indication, the hometown Cardinals certainly enjoy the home-track advantage, which can be deemed nothing but good news heading into Thursday's 11-team Cardinal Relays.
The Eudora boys finished first and the girls took second at the six-team Eudora Invitational. The competition will be much stiffer Thursday, said coach Dave Durkin. He believes his teams are ready for the Cardinal Relays.
"It will be a tough meet," Durkin said. "I hope we finish in the upper half. It will be a big night. Everybody will be picking on the other and everyone has a shot at winning."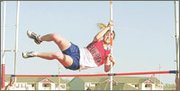 In addition to a senior-led Perry-Lecompton team that has already finished ahead of Eudora on two occasions, the Cardinals will also get their first look at Class 4A powerhouse Sabetha and Class 5A DeSoto.
Baldwin could also figure prominently in the team standings.
At the Invitational, the boys team finished with 188 points to easily outdistance Tonganoxie, which was second with 139 points. Osage City, Silver Lake, Spring Hill and Osawatomie brought up the rear.
"If we had not scored so high in the field, we would not have done as well as we did," Durkin said. "The kids on the track did really well. It was really balanced. We got a few points here and there. We had so many strong performances."
Seth Mullis, Aaron Slavin, Brian Harris, Ben Thomas and Zac Tyler led the Cardinal boys team with first-place performances.
"My teammates and I put out a maximum effort," said Tyler, a sophomore. "We won by a sizable margin. I am happy with how we performed."
Mullis won the triple jump competition with a mark of 38-0 3/4, while Tyler edged teammate Steve Krutz in the 400-meter run with a time of 53.54.
"I was kind of surprised," he said. "I didn't think I would take first. I ran a pretty good time, though. It was one of my best so far. Friday night was the perfect night to race."
Thomas won the 800 meters with a time of 2:08.85. Meanwhile, Slavin, the only returning member of the team to compete at the Kansas Class 4A meet in Wichita a year ago, won his first event of the season the 1,600 meters with a time of 4:55.38.
Brian Harris shook off a nightmarish outing earlier in the week at the Perry-Lecompton meet to win the 300-meter hurdles for the third time in four tries this year. His time of 41.66 is close to qualifying him for a spot in the Kansas Class 4A meet next month.
Earlier in the week, Harris was in the lead, but stumbled on a hurdle and fell to the ground. He got up and was finishing the race, out of contention, when two runners hit their hurdles, knocking them into Harris' lane. He fell again and didn't finish the race.
The Cardinals won the 4x100-meter relay with a time of 45.40 and the throwers' relay with a mark of 49.2. It also finished second in the 4x400 and 4x800 events.
Other second place finishers for the Cardinals were Craig Harris, 100 meters and 200 meters; Krutz, 110-meter high hurdles; Josh Bowser, long jump; and Zac Hamlin, javelin
In the girls competition, Eudora scored 113 points to finish second behind Tonganoxie. Emily Hermreck, Jill Abel and the throwers' relay team posted first-place performances for the Cardinals, who scored a lot of points thanks to second- and third-place showings.
"I am proud of them," Durkin said. "There is not as much depth there because they are really young and inexperienced."
Hermreck won the javelin with a mark of 105-1 and was part of the throwers' relay team. She also threw the shot 29 feet to finish second.
Meanwhile, Jill Abel won the 3,200 meters with a time of 13:56.98 and was third in the 100-meter hurdles and fourth in the 300-meter hurdles.
Kelly Campbell was second in the 400-meter competition, while Shonna Warrington was third. Lacy Deathe was third in the pole vault with a mark of 6-0.
"This meet got us started," Durkin said. "We were really on a roll. It is really gratifying as a coach to score multiple people."