Suburban cowboy
No bull local rodeo standout now specializes in riding horses bareback
For a cowboy, there's not much that can keep him away from horse riding, bull riding or rodeos. But after laying clinically dead in 1994 the victim of a bull ride gone bad Ron Crystal decided to give up riding bulls.
"I was dead for 12 minutes," Crystal said. "I knew I was dying. I knew this was it."
With the aid of life flight, doctors and, he said, the help of God, he was revived and managed to make a full recovery but not without a price.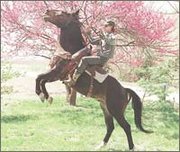 "I quit bull riding," he said. "I had a little deal with the Lord and I'm not going back on that one."
Crystal said he still yearns to ride bulls, a constant temptation he must endure.
However, he hasn't given up totally on being a cowboy. Currently, he cares for a horse that he owns, and four others on his rural Eudora land.
Many of the horses he cares for are used for carriage rides, such as on The Plaza in Kansas City, Mo. Even though he quit bull riding, he still rides horses bareback at rodeos.
"You go for the money but you'd go if it was free anyway," he said.
Crystal said he enjoys meeting "straight-shooting, God-fearing good people" at rodeos, but gets much of his kicks in the adrenaline of the ride.
"There's always a thrill when you twirl yourself on a 2,000 pound animal," he said.
Aside from his love of the rodeo, he has another great love: his 10-year-old son, Austin. As a single parent, Crystal said he carefully balances his love for the rodeo and his duties as a father.
"It's worth it. All the rodeos I can hit in the summertime, I go," he said. "But when school starts then it's time to take responsibility as a father," he said.
Watching his young son grow provides Crystal a different kind of fun than rodeos, but the same result: pure enjoyment.
"There's been just as much joy as in bull riding," he said. "And the risk factor is just a bit lower."
To maintain his horse-riding activities, Crystal said he finds jobs that fit his schedule, allowing him freedom to enjoy rodeos.
While jobs such as construction pay the bills, and some rodeos can bring in money, Crystal insists his involvement is because horses and rodeos have been with him his whole life.
"What I've always done is worked with horses," he said. "I don't really call it a job; it's just a way of life."