West students meet their pen pals
Fourth-grade students from Eudora West Elementary got the opportunity to meet with some friends they had never seen when they made a trip to Prairie Park Elementary in Lawrence.
The April 14 excursion allowed the students to meet up with their pen pals, whom they have been writing since September.
"We all did it because writing friendly letters was one of our language skills in English," said Sue Coon, EWE teacher.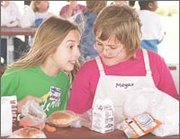 In addition to developing writing skills, the children also enhanced communication of thoughts and ideas.
"The kids, a lot of them, know how to speak to each other, but the challenge for them was trying to convey those ideas into words," said Dan Karasek, Prairie Park teacher. "They would practice what they would ask their pen pal."
Each student wrote one letter to a randomly selected student at the other school, bouncing letters back and forth each month. Calvin Smith, Eudora, found himself eagerly awaiting the correspondence from Jordan McClain.
"I liked the anticipation of hearing what he had to say," Smith said.
Supervising the students was not easy for the teachers, but Prairie Park teacher Susan DeVore made an attempt to bring some calm to the situation.
"If anyone hears my whistle what should you do," she asked.
"Run," said Matthew Howell, a Prairie Park student.
After a brief sack lunch and not-so-quiet conservation, teachers and students made a trek to the Prairie Park Nature Center to check out the center's nature scene displays and some animals. A snake exhibit, however, wasn't everyone's cup of tea.
"I'm sorry, I can't stand it in here," said Eudora student Morgyn Carey.
Snakes aside, the experience, DeVore said, was good for the students, and an example of the positive in schools.
"There's no catastrophes here, no blood or threatening," DeVore said. "This is a fun thing."