Cruising along the …Highway to Heaven
Bob Bryan enjoys riding motorcycles. With his blue jeans, pointy boots and a leather vest, he relishes setting out on the open road on his bike with his wife on the back and the world in front of him.
Sometimes you see him with a pack of his friends cruising down the road. If you see him coming, you may want to prepare. He may have a few words to say to you about Jesus.
Bryan and his wife Mary are both members of the Christian Motorcyclists Association and the Eudora couple are members of Heaven's Angels Lawrence chapter, a group meeting monthly.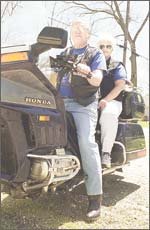 Bryan, who has been riding since 1974, said the purpose of the group is for Christian bikers to attend motorcycle rallies across the United States, spreading the word of Christianity to others.
"I was real skeptical at first," he said. "But we went for a ride with them one Sunday and saw their sincerity."
Bryan was sold.
Bryan said he joined CMA to minister to those who don't attend church. Instead the group brings the church to the bikers. But in the case of Steve Alvarez, Bryan only had to take the ministry across the street.
"I moved in across the street from Bob and he came over and started to talk to me about them," Alvarez said. "After that, I though maybe it was time to get back involved again."
After becoming a Christian four years ago, Alvarez said he avoided riding with others to steer clear of not-so-savory crowds and activities. When he met Bryan and discovered CMA, his absence from riding with others was short-lived.
Bryan said CMA ministers to biker rallies by providing a church service. At first, he said, the group of holy rollers wasn't too welcome.
"When we started showing up, a lot of them didn't want us there," Bryan said.
Now, he said, the group is better received.
"Last year we had a couple of biker rallies where we'd go in and put on the whole service," Bryan said. "A lot of our people do volunteer work."
As part of its work, CMA holds an annual 100-mile ride to raise funds for U.S. and international ministries. The group also attends different churches, giving testimonies of their experiences through ministering.
Though the bikers volunteer time and effort in telling others about Christianity, Bryan insists that it's especially important to live a life that's supportive of the message being presented. And though churches are fine, Bryan said, sometimes you have to go beyond the doors to reach those who may not normally set foot inside a church.
"Church is wonderful, but other times you need to get involved in organization outside the church," Bryan said.
"And the church doesn't reach all people," Mary Bryan said.