Four vie for superintendent job
Twenty-six educators applied to become Eudora's next school superintendent.
The pool has been trimmed to four by the Kansas Association of School Boards, which conducted the statewide search for Dan Bloom's replacement. It presented the list of finalists to the Eudora Board of Education last Thursday night.
All four finalists were scheduled to interview in Eudora this week.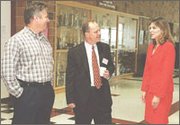 "We have four very qualified candidates for the position," said Mark Chrislip, president of the Eudora Board of Education. "All of the candidates come with great recommendations."
Each candidate was in Eudora on a different day this week, and met with district principals, toured the four campuses and went through a lengthy interview with the school board.
The school board expects to make an offer to one of the candidates by the end of next week.
Here is a short profile on each candidate:
James Barrett
Barrett, the superintendent in Scott County the last six years, has experience at a variety of school districts throughout the state. With children attending school at Kansas University and Emporia State University, coming to him for personal reasons.
There are legitimate professional reasons, too.
In the last two years, the Scott County district enrollment has declined by about 11 percent. As a result, the school district is reducing its staff.
"It's very much a changing community, but not in any way, shape or form a dying community," Barrett said. "There's no one single factor. It's a combination. Right now, we're graduating more students than we are bringing in."
Eudora's growing enrollment appeals to Barrett.
However, you might understand if he is a bit skittish about a bond issue to build a new high school in the not-so-distant future. He spearheaded a bond issue to build a new school last year that was resoundingly rejected by voters by a 2-1 margin.
"I think the issue united the community," he said. "The message was clear: We don't want a new building. We want to remodel the one we have. I don't think there is a way to sell a community on a new building at this time for a variety of issues."
The declining enrollment would be at the top of the list, he said.
A former math teacher, curriculum is important to Barrett, but not as important as teaching students at the highest level possible.
"To me, that's equally important as what you are teaching."
Scott County is above the norm in most state assessment tests, which Barrett said are useful in determining "the big picture," for a school district.
"The test scores are important," he said. "There needs to be a variety of state and national tests to see how our students rate with the students across the country, but there also needs to be locally developed tests that measure how well our students are doing in the curriculum."
Russell Kokoruda
Of the four candidates, Kokoruda is the only one who has never been a superintendent. He said this is the next step a natural progression in his educational career, which has spanned three decades in a number of roles, including: teacher, basketball coach and principal.
"I am the principal of a 6A high school," he said. "After a few years you have to make a decision: either continue being a principal, which I enjoy very much, or broaden my horizons."
Eudora provides Kokoruda, a native of the Kansas City metro area, with an ideal opportunity the ability to take the next step in his career in a place that is not unfamiliar to him. He has three degrees from Kansas University.
He also has experience operating in a school district that is experiencing unprecedented growth. The Blue Valley district, which serves in Overland Park, Leawood, Stanley and Stilwell, has three high schools and will open the doors to a fourth campus in 2001.
In August 1993, Kokoruda moved from Blue Valley High to open Blue Valley Northwest. The school, with 1,592 students, does well in all aspects of education. It scores well above the state average in assessment testing. In addition, more than 90 percent of its graduates passed advanced math courses a year ago.
"Academic success should be the goal of every kid," Kokoruda said. "That means something different to every kid, but we have to strive for the best academic performance possible."
Of course, there are vast socio-economic differences between the Blue Valley and Eudora districts, but if Eudora needs a new high school there are ways to do it without causing undue financial strain on the community, Kokoruda said.
"That's always the challenge of handling growth," he said. "I'm not looking to tax a community to death, but where is a better place to put our tax dollars than in our schools?
"A community grows when its school system is successful. It's an investment in our children and who doesn't want to invest in our children?"
Steven Mollach
If there is a single word that sums up Mollach's philosophy on running a school district, it would teamwork.
A superintendent, no matter how competent, can't do it alone.
He needs the help of the staff, the school board and the patrons for the system to run smoothly.
"We stress teamwork in everything we do," said Mollach, the superintendent of the North Lyon School District (near Emporia) for the last six years.
The curriculum for a district is a "team vision," according to Mollach.
The construction of new buildings takes, first of all, the approval of the community and then a team effort to launch, Mollach said.
"No one man can do it alone," he said.
Mollach has been in the North Lyon County district the last 13 years. Prior to his stint as superintendent, he served as the high school principal there. He said he is quite happy with the job he has, but when an opportunity for betterment arises, investigating it is the right thing.
"I have an obligation to some things to do what's best for my family," he said.
The Eudora position, he said, would be betterment. Eudora's location, its growth and the small-town feel make it appealing.
Mollach toured Eudora's campuses Tuesday and liked what he saw in most cases. The exception might be Eudora Middle School, the city's oldest school, which, he said, "has some needs that need to be addressed."
He also noticed that most of the schools are operating at or near capacity, meaning it won't be long before the issue of a new building comes up. He has experience in that area, overseeing the building of a new elementary school six years ago.
The project was a nightmare to administrate, but he relishes the opportunity to try again.
"You learn from mistakes," he said. "I'm not saying all of the mistakes were my fault, but it will be easier to do it this time, having done it once before."
Darryl Pruter
Saying Pruter is goal-oriented would be an understatement. He set a goal to be a school principal by the age of 30. He did that. He then set another goal to be a school superintendent by the age of 40.
At 40, the former English and physical education teacher has already been a superintendent for three years. Now, he's looking to bring his skills to Eudora.
Of the four candidates, Pruter's current school district the Holcomb district might be most comparable to Eudora. Holcomb is located six miles west of Garden City, Pruter said.
The district has grown and Pruter has been successful in getting the voting members of the community to buy into the need for additional schools.
Last year, he spearheaded a $14.5 million bond issue that doubled the size of the both the middle school and high school and will eventually add a new elementary school to the 900-student district.
"Growth is a positive," he said. "It definitely beats the alternative, which is not growing. Growth is a challenge, but it has to be looked at as a positive."
The Holcomb elementary schools, like Eudora, use a mastery-learning curriculum, which Pruter subscribes to wholeheartedly.
"I like multiple opportunities," he said. "Everyone should have opportunities to learn when they are ready, not when we teach it."