Barnett captures bronze medal
Two of Eudora's own took to the mats in Lawrence Saturday at the Sunflower Games to show that wrestling can be fun.
Cardinals football coach Aaron Barnett and Eudora High graduate Robert Collins wrestled in the Sunflower State Games last weekend after a couple weeks of preparation.
Barnett competed in the 30-39 year-old age bracket in the heavyweight division and came away with a bronze medal.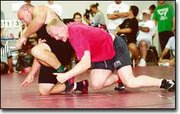 Regardless of wins and losses, Barnett achieved the only goal he set before going into the meet.
"Hopefully I get out there and don't get hurt," Barnett said. "My goals are pretty low."
Collins, last year's undefeated state champion, also wrestled as a heavyweight, but was slotted in the 19-29 year-old group. He had other goals in mind he wanted to win the gold.
However, competing against more experienced wrestlers took its toll and Collins was forced to settle for a third place finish and a bronze medal.
Although Barnett, who wrestled in high school, he is not new to the sport, Saturday's meet at Free State High was the first time he hit the mats in competition since high school when he finished second in his state tournament.
"I've had this bad taste in my mouth since the last match 12 years ago was a loss," Barnett said. "But I think things are a little rusty now."
But what better way to polish up the old skills than to practice with the best heavyweight wrestler in Kansas?
Barnett and Collins practiced about three days a week in preparation for the main event.
"He's pretty good," Collins said of Barnett. "We're pretty well matched. The first day I won most of it, but we came out pretty even on Wednesday."
Although Barnett played the games off as being "just for fun," Collins said the competition in practice was a little more intense.
"I asked him if he had been thinking about new strategies and he said 'the day I take losing is the day I quit,'" Collins said after pinning Barnett in practice. "We wanted to come up with more moves."