Local girl worked year round for fair payoff
Samantha Box had been preparing all year for that one week that makes all the hours of sacrifice and commitment so worthwhile.
The Douglas County Free Fair was a chance for the 13-year-old 4-H member to exhibit the projects she had spent days and even weeks working on.
"I've really spent a lot of time working on my projects," Box said. "You have no idea how much time I've put into my projects."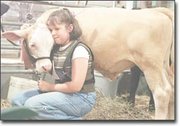 Box began working on her exhibits the beginning of January, but she said she started to pick the pace up the last few months.
"Usually I start right as the school year gets over," she said. "That's when I really start concentrating on it."
Several 4-H members chose to exhibit at the fair in four, five or six projects, but Box said she had been working on exhibits for 14 different projects including clothing, reading, rabbits, beef, electrical, foods and nutrition, arts and crafts and cats.
She said the cat project was one of her favorite.
"I like it because the judging is all done in one day," she said. "Then when it's over, you've got a friend to keep with you."
Box showed her cat, Eeyore, at the Pet Show July 22 and received reserved grand champion.
Her cat wasn't the only animal Box showed in the fair this year. She said she also took her rabbits, Marie and Snowball, and her heifer, Paprika.
"I'm really looking forward to the breeding show, which is where I'm showing my heifer," she said. "She got last place in the spring show, so I'm looking forward to see how she'll do this time."
Box learned early that not all aspects of raising livestock are enjoyable.
"I used to show Taz. I raised Taz from bucket calf," she said. "I took him the next year as a steer. At the end of the week I had to sell him and that was really hard. I was crying when I sold him. I didn't want to have to do that anymore so I chose to show a heifer."
There are certain animals that can't be shown in the fair so Box made an educational poster as part of her wildlife project.
"There are a whole bunch of different categories to enter in. I decided to do one on endangered species," she said. "I got pictures of different endangered species off of the Internet and made a poster. Under each picture is the animal's scientific name and what we can do to help them."
Box, a 6-year member of the Eudora 4-H Club, said she knows from experience what the judges look for when judging exhibits so there are times she will start over on a project.
"If I don't like it, I'll just start over, even if the project is done," she said.
Her mom, Cathy Box, said Samantha will work on a project until it's just right.
"She's a perfectionist," Cathy said. "She's always been like that."
Samantha said the fair was a good chance for her to see other 4-H exhibits.
"I like going in and seeing what other kids are doing," she said. "You can always learn from watching them."
Even though fair week took a lot of preparation, Samantha said it was worth it.
"It is hard and it takes a lot of time, but I like the competition," she said.