Field trip illustrates Kansas River erosion
Leavenworth and Douglas county officials hope a field trip last week will translate into federal funds to finance work that would halt erosion along the Kansas River.
Last Friday, about 30 people, including U.S. Rep. Dennis Moore, D-Kan., stood on the bank of the Kansas River northwest of Eudora, where the river is threatening farmland. John Pendleton, whose family farms the quickly disappearing ground on the north bank, explained that since 1993 he'd lost 25 acres because of erosion.
"This is impressive," Moore said. "I had no idea. I really thought it would take more time than that for a dramatic shift in the river."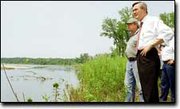 Plans call for a series of dikes to stabilize the north bank of the river and to prevent the channel from changing course. The price tag: at least $1.6 million.
"The longer we go, the costs are going to go up," said Keith Browning, Douglas County public works director and county engineer.
Moore said he and U.S. Rep. Jim Ryun, R-Kan., have pledged to work together in hopes of securing federal dollars for the solution.
Although officials are concerned about farmers such as Pendleton, they're more concerned about the integrity of the river bridge north of Eudora.
During the floods of 1993, Pendleton said, he watched the river push eastward.
"I think the only thing that stopped it from creating a new channel was the asphalt on County Road 1," he said.
The river is threatening to change course, cutting a new channel north of the bridge that connects Leavenworth and Douglas counties. That would mean the bridge would span an oxbow, and Leavenworth County Road 1 could be under water.
Already, county officials have committed to split their share of the cost of construction design plans. The two counties' total share of the $85,000 plans is estimated at $25,000 to $30,000, Browning said. The U.S. Army Corps of Engineers is picking up the remainder.
The counties also would share 35 percent of the cost of construction, while the Corps of Engineers would handle the remaining 65 percent.
But no federal money is available yet. And that's where lobbying efforts by Moore and Ryun will be valuable.
"I intend to talk to Jim to see if we can get something done here," Moore said. "There is a lot of competition in Washington for money."
Browning said he remains guardedly optimistic that federal funding will be allocated for the erosion mitigation project.
"I think Congressman Moore seemed to understand the problem and the scope of the problem and the importance of finding some solution," the public works director said. "I think it really helps a lot to take them out there and show them."
The Kansas City, Mo., firm of Howard, Needles, Tammen and Bergendoff likely will complete the construction design plans by the end of the year, Browning said.