Kicking off the fall
New football season brings feeling of optimism to Eudora Cards
Summer is winding down, but things are just heating up for the Eudora High football team.
The Cardinals kicked off their season Monday, beginning a week of two-a-day practices that challenged the team's physical and mental strength.
"We're just gradually starting to insert our offense and seeing who's in shape and who's made themselves better over the summer," Barnett said.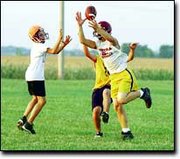 Despite the cooler weather Monday morning, the players sported sweat rings from collar to belt line as they lined up for a series of passing drills.
"We want to be able to throw more than we did last year," Barnett said. "So we are going to emphasize that all week."
The skill players worked in seven-on-seven drills while the lineman battled tackling dummies. Between drills, players sprinted across the field, speeding up as the coaches shouted instructions.
"The first day of practice went good," said Brent Whitten, senior offensive lineman, after Monday night's practice. "And the team looks good so far."
With its first game just two weeks away against Paola High, one of the Frontier League powerhouses, the team will need to gain focus and cohesiveness to step up to that challenge.
"We've got a long way to go," Barnett said. "The first week of practice is basically just a feeling-out process right now. Overall it went pretty well."
Avoiding the heat of the day was the tough part. The players were up with the sun for the morning practices, avoiding the afternoon swelter. Evening practices, which focused mainly on passing and line work wrapped up the days under a falling sun.
As the final minutes of the evening practice wound down, the players cheered each other on during 100-yard windsprints working and playing as a team.
And team unity is something that senior wide receiver, John Powers said would be vital to the team's success something he said the players were gaining this week in practice.
"We don't have any individuals," Powers said. "We're not good enough to have individuals."
More like this story