Love at first bike
Local man's passion for motorcycles kept on the right track
Mike Oleson really knows his way around a motorcycle.
Since age 9, Oleson has owned some form of cycle, fueling his passion into adult life for a love of racing. What started out as a love for bikes turned into a honed skill. In late July, Oleson won first place in motorcycle drag racing during Bikefest 2000 at the Kansas City, Mo. International Raceway.
Two weeks ago, he took second in the raceway's weekly bracket challenge.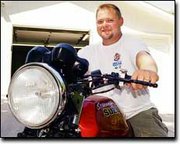 Oleson said his winnings and races are nothing short of accomplishing a lifelong goal.
"It's been a life dream of mine to race bikes and I'm finally getting to do it," he said.
His motorcycle love stays confined to the racetrack after an accident involving a friend from his youth.
Several years ago, Oleson said, he sold a street-legal motorcycle to his best friend, Kenny Crawshaw. Shortly after, Crawshaw died in a collision of his motorcycle and another vehicle. Devastated by the loss of his friend, Oleson refuses to drive a motorcycle on the streets.
But with drag racing, he said, it's two drivers, an open track and a helping hand in case he crashes and burns.
"There's an ambulance that's just waiting on me, so I don't consider it dangerous at all," Oleson said.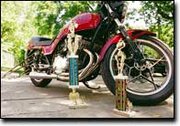 "What I do is less dangerous than riding on the street."
Oleson has received patronage from the automotive racing and parts companies Dynatek, Pingel Racing and Eudora Auto Parts. He gives considerable thanks to Suzuki for making his winning ride, a 1982 GS 1100 E.
Then there's the support of Oleson's Garage, where father Trig Oleson and son, Mike, work, play, eat, breathe and sleep practically anything fueled by gasoline.
"We're car enthusiasts," Mike said. "I've got seven vehicles myself. My dad's got six."
Trig said working for his son and heading off to the races isn't very profitable, but it is fun.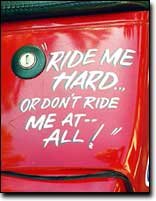 "It's tough. He's hard to please, and he pays real poor," Trig joked. "It doesn't pay very well, but I have a good time."
Despite the low pay, both Olesons say the races are great fun especially when winning. But one great thrill for both lifetime Eudorans is the recognition brought to Eudora through Mike's racing.
"Everywhere we go, they announce Eudora, Kansas," Trig said.