Any volunteers?
New truck lifts community
Kick the tires and call in the fires, there's a new fire truck in town.
The E1 Custom Pumper arrived Aug. 11, and firefighters already have begun training on the new apparatus.
"Some of our key personnel were out learning the truck last weekend: driving it around, learning the points and where everything is located," Fire Chief Spencer McCabe said.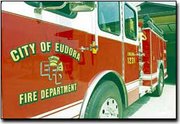 The fire department also conducted a full training exercise with the truck Aug. 15 at Eudora High.
The new truck will add to the fire department's capabilities, allowing firefighters to run on multiple-types of calls, McCabe said.
A 750-gallon holding tank is installed on the truck. The engine also can pump up to 1,250 gallons of water per minute. Six firefighters, with equipment, can ride comfortably in the truck's cab, compared to the two-to-three seat cab capacity on the fire department's older vehicles.
A hydraulic carrier mounted above the back passenger side of the truck for ladders and pike poles gives firefighters more storage area and easier access. The truck has a sharper turning radius than the old trucks and comes equipped with hydraulic levelers, to level and steady the truck at the scene of a fire.
The city bought the truck on a three-year lease-buy option from Conrad Fire & Equipment Inc. in Olathe. Conrad has provided vehicles for several fire departments in Johnson and Douglas counties.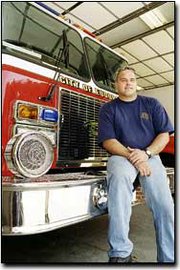 Eudora's truck was manufactured at the company's plant in Florida, and its Olathe location was one of the selling points for McCabe.
"With mechanics and the shop being in Olathe, it will be convenient for us," he said.
The city will pay an estimated $84,000 a year in principal and interest payments. The truck's purchase price was $221,000.
"The city has doubled in size in the last 10 years," McCabe said. "It's something we've needed for a long time."
More like this story