Being retired can have its perks. Often, it allows time to indulge in plans, vacations or hobbies long desired but never achieved. Retirement has allowed one rural Eudora couple to get the best of both worlds. With their farm of exotic animals, they enjoy their hobby and keep boredom away by keeping busy.
Victor and LaDonna Lickteig operate Lickteig Angus Farm, southwest of Eudora. Together, they raise exotic animals and said the experience is more than just a hobby.
This is our vacation, this is our church and this is our school because were always learning something, LaDonna said.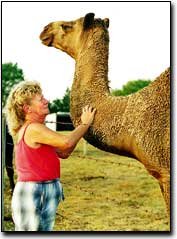 Working daily with exotic animals, she said its nearly impossible to not learn. The 10-acre farm houses exotic cranes, swans, geese, llamas, miniature donkeys and ducks. They care for 58 species of ducks and geese and 27 species of pheasants. One rarity is the steamer duck, which is the only flightless duck in the world.
Were the only one in the Midwest that has them, LaDonna said. They only run $3,000 a pair.
They even have a camel, Clyde.
Hes my best buddy, LaDonna said. Hes a real sweetie.
Tending to the animals is no easy chore. Its an early-to-rise job for the Lickteigs, with the animals requiring constant attention. Providing food and keeping automatic water suppliers running is half the work, along with cleaning cages. Keeping the animals free from weather-related problems is important also.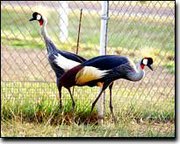 We start about seven in the morning and get done about four or five in the evening, LaDonna said. Theres always something to do.
Though keeping busy is a main factor in their time-consuming hobby, there is another reason to care for so many animals. By caring and breeding exotic pheasants and waterfowl, their contribution has helped some birds get off the endangered species list. Of nine species of pheasant previously on the endangered species list, eight have been removed. They have also seen one species of waterfowl be removed from the list.
If it wasnt for people like us, some of this stuff wouldnt be around, Victor said. Thats part of it, to help these species of birds stay in existence.
Though the couple sells some of their animals, LaDonna said their farm is not a moneymaking venture X even after 10 years of operation.
It really isnt a business, its a hobby, she said. You never make money on it. What we do, we make enough money to pay for the feed and thats it.
Running an operation such as the Lickteig farm requires some self-education. They must study their own medicine for the exotic animals. The couple attends conventions globally, learning new techniques for medicine, care and maintenance of the exotic animals. But with all the animals they look over, Victor said the vacations are the hardest thing to come by.
However, he said, its worth it.
Its one of those things if you enjoy it and love it, you dont mind it, Victor said.