Beaten by the heat
Middle school cancels classes for two days
Despite efforts to stay cool by keeping the Eudora Middle School doors open, the doors will be shut for two days in submission to extreme temperatures.
Dale Sample, middle school principle, said the decision to cancel school came after a visit by Dave Winans, school superintendent, early Wednesday morning. After Winans toured upstairs and some classrooms he called Sample with a temporary solution.
"He phoned about 30 minutes later and said 'it's too hot,'" Sample said.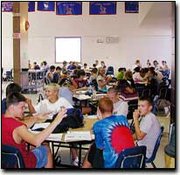 Sample said in his three years as principal this hasn't happened before. Students will not have to make up the days.
Sample said though the heat has caused the temporary shutdown, he believes the district is doing everything possible to alleviate the situation.
"No question about it," Sample said. "I really think that our board, our district and our community are very receptive to the problem and they want to address it."
To cope with the heat, the students have been bused to the high school in the afternoon because of the problem. Sample consults daily with Winans and Matt Daigh, director of transportation and grounds, to determine whether the students will go to the high school.
Seventh and eighth graders had class in the high school's commons and auditorium for the first time Aug. 24. Although not an ideal learning situation, it beats sweating the rising temperatures at the middle school, Sample said.
The decision is one of safety and the reality that learning is hampered under such miserable conditions.
"We're keeping those things in mind when making the decision," Sample said.
Students leave for the high school at 12:40 p.m. and are bused back to the middle school in time for parents to pick up their children.
On extremely hot days, the school will keep this schedule, but for how long depends on the weather.
A typical day at the middle school has the entrance and exit doors open and large fans are placed in the hallways to circulate air. Students are allowed to carry water bottles and the school provides ice-filled water coolers.
The 50-year-old electrical wiring at the middle school cannot support an air conditioning system and the building would need remodeling to make it more energy efficient, officials had said.
The school district is conducting a feasibility study of all school facilities, which will be reviewed by the school board, Winans said.
Overcrowding in the current Eudora schools, educational programming, construction costs, and the age of the middle school building will factor into what direction the school board will take concerning future facilities, administrators said.
Eudorans will most likely see remedies to the current situation, when the district has a bond referendum in the near future, Winans had said.
More like this story