Chamber`s annual contest to help light up Eudora
There`s a festive glow in town as the annual Light Up Eudora contest plugs in. Rural Eudora resident Hank Turnbaugh is ready for the show.
Turnbaugh was the second runner-up in last year`s contest. Turnbaugh said he`d continue his 20-year tradition of house decorating this year with his entry in the contest.
Though he hasn`t had as many lights as others in Eudora, Turnbaugh said, he has been called the "Griswalds of Eudora" by a select few.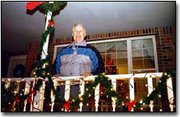 "That`s what I`ve been called," he said. "I`m out there with my hood on and my gloves and figuring out how I`m going to hook them all off. My daughter-in-law teases me and said when I turn on my lights the rest of the town`s goes off."
The Eudora Chamber of Commerce sponsors the Light Up Eudora contest. Contestants decorate their homes with Christmas lights and banter, then are judged for cash prizes. The grand prize this year is $100, first place for the Eudora township and city are $75 each, second place overall is $50 and seven honorable mentions at $25 each.
Turnbaugh said he loves decorating his house for Christmas. An Overland Park resident before moving to Eudora, his home was on the Parade of Lights. He said the hard work and large quantities of lights helped his house light up the neighborhood and drew him to Eudora`s competition.
"I probably have 5,000 to 7,000 lights now, maybe more," Turnbaugh said. "It usually takes me about three to four days to put it up and about that much to take them down and pack them properly. It`s just one of my pastimes I enjoy and enjoy doing."
One of Eudora`s heavy hitters in the contest is the home of Dave and Rose House. Dave House said the family would not be participating in the contest. House has a broken list and said it`s too difficult for him to put up the lights this year.
"I have had several people in town volunteer to help and everything, but it takes a lot longer to get it all worked out," he said.
The couple has won awards in the contest since they began entering five years ago. House said he didn`t
"The first year I w on it, I never entered the contest," Dave House said. "I won the contest because someone else entered me in."
Like Turnbaugh, House said the contest comes second to his pastime. House said the reason he lights up his house is for the children who come to look.
"We do it because of the kids," House said. "Nothing pleases me more than when a car pulls up around here and kids get out and their eyes are as big around as saucers."
Judging for the contest will be from 6-10 p.m., Saturday and Sunday, Dec. 16 and 17.
Entry forms can be obtained and turned in at Eudora City Hall, Kaw Valley Bank, Mutual Savings, Arrowhead Hardware and Byrne`s Pharmacy. The registration deadline is 5 p.m., Dec. 15.