Picture Perfect
Antique collection paints picture of vintage Eudora
Jim O`Berg began collecting antiques when he was 20 years old. Over the years his love affair grew and he always kept an eye out for a good bargain. Sometimes, his smart shopping would produce a bargain, other times he lost money. But one of the more unique items in his private collection he stumbled upon without realizing at first.
While at an estate auction 20 years ago in Eudora, O`Berg bid on a box of undisclosed contents. Paying $3 for the box, he later discovered a treasure at the bottom of the box -- glass negatives of pictures taken of Eudora, dating back to the early 1900`s.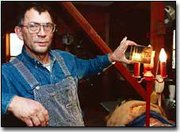 "It was just a box of junk," O`Berg said. "I pretty much bought this blind. I didn`t know what it was."
After examining the negatives, he picked out ones of interest and took them to a developer in Kansas City, Mo. The pictures reveal Eudora in some of its earlier stages. A budding town with dirt streets and gun-toting citizens are some of the 300 negatives in the collection. Other pictures include a 1906 flood and an unknown man on a Harley-Davidson motorcycle from the 1930`s -- a prize print he has hanging in his house.
O`Berg said his Eudora negatives are just some of the finds he has picked up at auctions. He has also found such as handcrafted chairs, an antique scale and an early 20th century roll-top desk. He said the desk took some work to get back up to a useable condition.
"I spent three or four months on that desk," he said. "It takes a lot of time for this stuff."
Now O`Berg doesn`t spend much time searching for antiques. He focuses his energy on rebuilding Ford cars and trucks. He said he decided to ease off on his antique buying because simply, he was running out of room.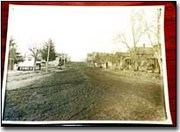 "I really don`t need anything," O`Berg said. "I`m into cars now. My son and I, we`re kind of into it."
However, O`Berg said, if he runs across something he can`t live without, it will more than likely become part of his collection.
"If the price is right, I`m a sucker for a bargain," he said.