Coming full circle
Priest's career comes full circle by returning to Kansas
The leadership at Eudora's Holy Family Catholic Church is changing hands, but the church will still be under the same deity management.
The Rev. David Rabe took over as priest at Holy Family on Nov. 28. Rabe filled the position of departing Rev. Paul Miller who stepped down Nov. 28 due to illness.
Rabe graduated from Kansas University in 1972 with a Master of English degree. He moved to Spain in 1974 where he taught English. Rabe said this experience led him to enter the seminary. Spain is predominantly Catholic and Rabe decided to attend seminary in Ireland.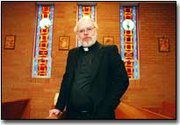 "But at the time I didn't want to go back to Kansas," he said. "In days gone by, the Irish generated a lot of priests."
So off to Ireland he went.
After being ordained in 1983, his service took him from New Orleans to Rome. Then, he accepted an assignment outside Leavenworth to be closer to his aging mother. After she died earlier this year, leaders at the New Orleans headquarters agreed he could to live and work in Leavenworth.
With the recent cold, Rabe joked, he pondered if he made the right decision.
"On a day like (Monday), I wonder what I was thinking about," he laughed.
Miller served two terms at Holy Family, one from 1952-60 and the second from 1990 until stepping down in November. He was a priest for 57 years. His training was difficult, he said. While attending seminary, he cleaned toilets, painted walls and even lived in the attic with the freshman football team.
"Nobody took me under their wing," Miller said. "I worked all my way through and never had any help from anyone."
With Miller stepping down, Rabe was called in to fill the vacancy. For Rabe, the position is like "coming full circle."
"I'm 53 and somehow after not having lived here for 25 years, I got to like the small towns and the more rural areas rather than the traffic and commotion of the aggressive city," Rabe said.
More like this story