Eudora High students, faculty display charitable actions with various drives
Every week in December, The Eudora News will publish a list of contributors to Eudora Cares, a special fund set up to support community charities. Last week, we profiled the Eudora Jaycees' Adopt a Family. This week, we look at Eudora donations to the Ministerial Alliance food pantry. If you're interested in supporting the food pantry, please drop your donations off to The Eudora News office at 1402-B Church St. Please support any of these worthy philanthropic efforts by sending checks to: Eudora Cares, c/o The Eudora News, 1402-B Church St., Eudora, KS, 66025.
Some Eudora High students and faculty have gotten into a charitable spirit, while having some friendly competition in the process.
The National Honor Society (NHS) members organized a food drive. Boxes are set up at EHS for each grade and a separate box for faculty members. After the drive ends on Friday, the group raising the highest number of non-perishable goods will be awarded with a breakfast next week.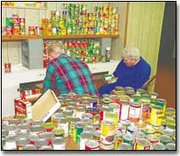 NHS sponsor Bonnie Neis said the drive has produced a competitive response from the students.
"I know that there's fierce competitions going on between the senior class and the sophomore class," Neis said.
The EHS Future Business Leaders of America aided NHS members in the drive. Having sponsored the food drive the past 20 years, FBLA joined forces with NHS by daily counting the food items.
Beyond the competition, the drive will benefit much more than the winning group, which will earn a breakfast. Collected items are going to the Ministerial Alliance food panty at St. Paul United Church of Christ.
FBLA sponsor Jane Clinton agreed the drive has sparked some competition.
"The classes have really got into the competition," Clinton said. "It's real surprising how the seniors have gotten into it. It's just been really fun."
Clinton said the group delivered one "carload" of items to St. Paul last week. Clinton said she believes students comprehend a deeper meaning.
"We're trying to stress that it's better to give than to receive," she said. "I think they're getting it."
Junior Jill Woodward has assisted in counting the food. Woodward said she was surprised by the amount of participation her peers have given, including the seniors.
"I think there's a particular amount of certain seniors that bring in stuff by the carload," Woodward said. "I think they're really trying to help and they're being very supportive of other people."
Jane Ireland, St. Paul pastor, said the drive has helped the pantry.
"It's been low," Ireland said. "This is going to help a lot. We had to plead because with winter setting in we've been a little depleted."
The help that EHS students are giving doesn't stop at Eudora's city limits. The International Club has been collecting new and used good-condition blankets and sheets. Their drive also ends on Friday. The club will donate the items to the Don Bosco Center in Kansas City, Mo. The center locates political refugees to resettle in cities across the nation. When relocated to Kansas City, refugees will be given the items along with a chance to get started with a new started with a new life. The center also helps refugees obtain the necessary papers and help them find a place to live.
Just because some students aren't in an organized group isn't keeping them from helping. Senior Emily Hermreck said she and other seniors have been working to collect coats to give to the Mayor's Christmas Tree Fund and the Salvation Army. The collections began last week and will continue throughout the winter, she said.
"We kind of just started it," Hermreck said. "We just figured people need coats. We want to keep it in the community if anyone needs them."
International Club sponsor Kim Lancaster said this years goal is 100 items, but currently only have 40. Despite a great need to hit the goal, Lancaster said, this year has been very fruitful.
"International Club specifically hasn't done this well in three years," Lancaster said. "I feel like as far as our particular aspect we've had a good response."
Lancaster said she is hopeful the group will reach its goal.
"We've encouraged our members to talk to their families and friends; anybody that wants to donate we will accept," she said. "We're hoping to reach our goal of 100 by Friday."
Clinton said FBLA is also accepting stuffed animals and said that drive has also gone well.
"We've also collected stuffed animals and were going to take them to the Lawrence hospital," she said. "We'll probably do that next week."
Woodward said the experience has taught her a few things, not only about competition but also for giving something of herself for a greater good.
"It really makes me want to get more involved," Woodward said. "Even though there's a lot of competition, you're still getting a chance to help somebody else."