Summer training aids in Bryant's improvement
Senior Jessica Bryant's strong desire to make her senior year of basketball a memorable one is evident.
Bryant is the most improved player over last season because she is more steady, said coach Gretchen Freeland.
"She had streaks last year where she would be on fire and really do some good things, but it wasn't always consistent," Freeland said. "This year, she is consistently scoring points for us. She has the ability and athleticism to be a strong player."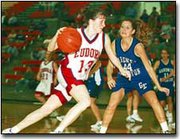 After four games, Bryant has tallied 43 points, which, she said, is about half the points she had for all of last year. On Dec. 4, Bryant had a career-best 16 points against Maranatha.
"I knew throughout the game that the points I scored were getting up there, but I didn't think I had 16," Bryant said.
Bryant's improvement comes from a commitment to making herself a better basketball player. Over the summer, Bryant, a native of Montana who moved to Eudora before the start of her seventh-grade year of school, attended a few basketball camps and played on a summer league-team in Olathe.
She also spent quite a bit of her summer at the middle school shooting and working on her ball-handling skills.
"At the beginning of practices, I could tell that she had improved drastically," Freeland said. "Offensively, she is looking to score and create other opportunities. She's definitely an offensive leader."
With leadership comes pressure, though.
Freeland "pushes me quite a bit and let's me know what she expects of me," Bryant said. "At first I was a little nervous that I was expected to be one of the leaders on the court. After the first game, it wasn't that big of a deal after all."
Bryant is the consummate blue-collar player always moving, always trying to make something happen. Her hustle used to be her biggest strength. Now, it's her ability to put the ball in the basket.
"We need people who can score on the team," Freeland said. "Jessica's had problems putting points on the board in the past."
If the first four games are an indication, those problems are a thing of the past. Bryant has scored in double-figures twice in the first four games.
"She is a very intelligent player," Freeland said. "She picks up on things quickly and she knows the game. She's become a lot tougher player."
An example of her toughness becomes evident when an opponent is guarding her tight. She goes toward the basket more and draws the contact instead of being afraid, Freeland said. She's no longer intimidated to take shots with a hand in her face, she said.
"I'm more confident," Bryant said. "Before, I was scared of getting the ball smacked back down in my face."
Bryant's love for the game is evident. Even though running track keeps her busy in the spring, she holds basketball is her first love.
"Basketball is the sport I look forward to most," she said. "I like the competition of a team sport and track is really an individual sport I want to play in college. I would miss playing too much."