Winter storms grip region, city
Two winter storms blew into Eudora this week, causing schools to close and threatening to continue throughout the weekend.
Eudora schools were closed Monday through Wednesday, due to both the extreme cold temperatures and icy roads, said superintendent Dave Winans.
"There was clearly ice that redeveloped and was creating a hazard," Winans said. "The temperatures that also developed would be a hazard for kids that walk to school."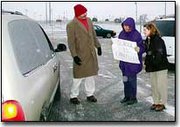 Winans said a significant number of students rely on buses, which prompted the school closings for safety reasons. Winans said the decision to not have school is being made on a day by day basis.
"We do have quite a few (students using buses) and if you add in the kids that shuttle that's many more," he said. "So there's a high proportion of our kids that use a bus."
This week's school closings will cause some problems for Nottingham Elementary, which was also closed due to sewer repair Nov. 22-24 and Nov. 27 through Dec. 1. Kansas mandates 1,116 hours of instruction per year. Though Eudora planned 27 hours above standard, Winans said, those hours have now been used up at Nottingham and students will have to make up the difference.
"We're looking at ways to make up that time," Winans said. "The easiest thing for us to do is to extend the school day. But, that in and of itself will not take care of the deficit."
Winans said the state would not provide a waiver for missing hours exceeded above the state standard until vacation and extended school year options have been exhausted. Possible options are to attend school through spring break, attend on Saturdays and even extending the school year.
"There will be discussion at the next board meeting," Winans said. "I don't know that the board will necessarily make a decision but I know they will discuss it."
According to the National Weather Service, temperatures are expected to reach a high around 30 degrees on Thursday, with southeast winds from 5 to 10 mph.
On Friday, a chance for light rain or light snow is predicted with a high in the middle 30s to lower 40s.
More like this story