Should there ever be a shortage of vinyl in Kansas, two Eudora individuals may be needed to keep the stax of wax alive and well.
Carlie Abel first got interested in music during the 1960's, after joining band in middle school. He recalled days of listening to a variety of music on AM radio, which sparked his interest in collecting an eclectic mix of albums. In high school, he formed a rock band and began listening and playing surf music.
But later his record collection began to take shape.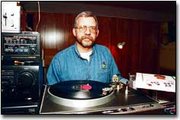 "I started a good collection once I got a decent job," Abel said. "I was going to the record stores every weekend."
Abel estimates he has at least 1300 albums, from his last count a few years ago. Though nowadays, he mainly buys compact discs and is a member of music clubs. Abel said he probably couldn't get much money for his albums if he were to sell, yet he insisted on holding on to them.
"I've got some albums in there that if I get a CD (recorder) I'll record them," Abel said. "There are some things in there you won't be able to find."
For John Woodward, those hard to find albums are also a main reason to keep his vinyl.
Woodward began his collecting in 1968. At 14, he was working as a school custodian and was making money, which allowed him the necessary funds to purchase a record now and then.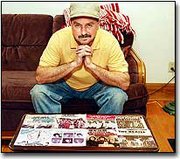 "I guess I was getting too old for baseball cards and somehow fell into music," Woodward said."
Woodward believes his collection is close to 1,000 records. Over the last 20 years, he has found many records through garage sales. Before CD's, he ordered albums from record stores and found others in bargain bins.
His collection covers rock, folk, classical, jazz and soul. Yet, there was one music style he never could get into.
"I hated disco, so I don't have any disco," Woodward said.
As a kindergarten teacher, Woodward has found other uses for his records in the classroom. He has some hard to find children's records that haven't been released on CD.
Both Abel and Woodward agree that much of a record's allure is in the packaging. Abel has even made murals of old album sleeves and framed favorite covers. He said the covers often attributed to a purchase.
Woodward agreed.
Covers do add a lot for the albums," he said. "I know I've bought a few based on the covers alone."
But Abel admits his main reason for collecting is simple he's addicted to music.
"I guess I'm a junkie for this stuff," he said.