A memorable year
Eudora's Slavin takes the fifth
From June 1, 2000
Wichita- The Eudora Cardinals would be the first to say even though only one athlete placed at the Kansas Class 4A track meet last weekend in Wichita, the experience gained was well worth the trip.
"Surely, if anything, this was a motivational factor," Durkin said. "They were really pumped and now I know they are going to want to go back again. We have a lot of experience coming back next year."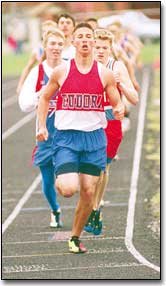 Perhaps junior Aaron Slavin is the best example of where this program is headed. This year, he was the lone returning member of the squad with experience at the state meet. He struggled in his debut at the state meet last year, but left Cessna Stadium with a medal in hand Saturday evening.
Durkin likes to believe this year's crop of state performers will learn something from the experience and be better for it.
Slavin finished the 1600-meter run fifth with a personal-best time of 4:35. It was a far better showing than his ninth-place finish last year. It all added up to a season he would have to call a success.
Matt Noonan of Baldwin City, who has tormented Slavin the last two years, won the 1,600 meters with a time of 4:26.45, nearly six seconds faster than his time which topped Slavin and a host of others the week before at the regional meet.
"Aaron really ran a smart race," said coach Dave Durkin. "He stayed right up there after putting himself in a position to place or medal. He ran strong and even came back in the last lap, knocking off someone from Gardner-Edgerton."
In the 400-meter dash, Zac Tyler ran well, but still was unable to earn a spot in the finals. He posted a time of 51.6 giving him sixth place in his heat. The winner in Saturday's final was Jahmil Foster of Kansas City-Sumner Academy with a time of 49.13 seconds.
Tyler is already planning for next year.
"I would like to break 50 seconds in the 400," Tyler said.
Both Tyler and Slavin also ran on the boys 4x400-meter relay team.
The relay team, which includes Sam Campbell, Brian Harris, Tyler and Slavin finished sixth in its heat with a time of 3:33.4 at the state meet.
More like this story