Best in (light) show
Chamber announces winners of Light Up Eudora contest
Some Eudora area residents spent the holidays shining in the glory of being named this year's winners of the Light Up Eudora contest.
Rural resident Hank Turnbaugh was the grand-prize winner. This is Turnbaugh's first year as the top winner, but he has had several years experience in decorating his home at 2297 N. 1137 Road.
He plans on keeping his lights up through the new year and said taking them down is almost a saddening experience.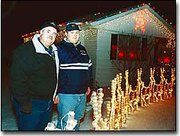 "When I take the lights down, everything seems so bare," Turnbaugh said. "Winter is so stark anyway and when you have the lights on the lawn when you take them down it looks so bleak."
Danny LeRow, took first place in the city. LeRow said he has been in the contest since it began and was surprised to be named a winner this year. He said his 16-year-old son was a big help and encourages him to decorate and enter every year.
"Normally it was just honorable mention," LeRow said. "That's why it was kind of a shock."