Winans takes helm as superintendent
There is a new face in the Eudora Board of Education office this week.
Monday was Dave Winans' first official day as the new school district superintendent.
Winans said he is anxious to get started and has already begun setting goals for the upcoming year.
"My first goal is to get acquainted with and learn about Eudora. That's uppermost in my mind," he said.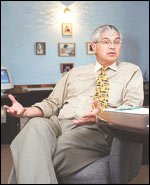 Included in that goal is meeting with and talking to faculty and staff in the school district, he said.
"What I do beyond that is going to be key from those discussions," Winans said. "Those discussions aren't for me to talk, they're for me to listen."
He said until he gets to know the district better, he doesn't have any immediate changes.
"I don't have a mandate for the (Board of Education) that says this person or this program must be changed," he said. "I need to learn before I can come up with an intelligent plan for the rest of the year."
Winans said he is aware the district does have issues that will need to be addressed.
"Clearly, we need to be able to provide appropriate facilities for the kids that are here," he said. "The number one thing is what goes on in the classroom. If you don't have classrooms, then you aren't helping the students."
In order to have a better idea of understanding of what is taking place in the classrooms, he said he would routinely visit students and faculty.
"It will be a regular part of my day to visit schools and get to know kids and staff and be where the action is," Winans said. "I don't see how I can be an effective superintendent and not be close to that. Being in the classrooms is an important part of my job."
He said another issue that needs to be looked at is one that all Kansas school districts face.
"We have a labor situation where there is a shortage of available teachers," he said. "We need to address the situation so that every child has a caring and confident teacher and teachers have co-workers that provide support to them."
Winans has had several years experience in education. Originally an elementary and special education teacher, Winans is coming to Eudora from the Leavenworth school district where he was assistant superintendent of curriculum for the last 10 years. Before that, he was an assistant superintendent at a large school district in Minnesota.
"This is the smallest district I have worked in," he said. "Even though this is a smaller district, I think I have some good ideas of what that means."
He said even though the districts he has worked at has varied in size, all that goes into having a productive curriculum, including the need to set goals and assess them, is the same for all of the districts.
Board president Mark Chrislip said it will be important for Winans to get to know the district.
"His biggest task with this first year is familiarizing himself with the district, including its weaknesses and strengths," Chrislip said. "I don't know what he'll view as the strengths and weaknesses, but I think it's going to take an entire year to figure them out."
Even though Winans has settled into his office, he has yet to move to town.
"The board has generously allowed me to sell my house in Leavenworth first," he said. "But I am anxious to move to Eudora and be a part of the community."
He has a son and daughter who attend Depauw University in Greencastle, Ind. Even though neither of his children will be students in the Eudora school district, Winans said in a sense, all of the children in the district can be considered his as well.
"I care very, very deeply about young people," he said. "I am also very passionate about education.
"I want people to understand how important public education is," Winans said. "I've come to understand that the heart of America is in our schools. I not only see what goes on in the schools as vital to each child, but it's also vital to the future of this nation and to this way of life."