Niche business in hard times
Antiques dealers struggle with declining business in downtown Eudora
At a time when online auction hunting is booming, two downtown Eudora antique businesses are finding it harder and harder to keep their doors open.
"We're struggling to get people," Jim Harris, owner of Keystone Corner, said. "We need to get people to come in from out of town, but nobody's coming in."
He said he relied on out-of-town business for much of his store's success.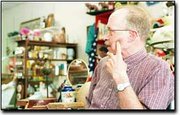 "Antiques aren't something you need every day," Harris said. "We depend on people coming in from out of town that are specifically looking for antiques."
Leland and Jane Massey, owners of Massey's Main St. Flea Market, said approximately 90 percent of their business was from out-of-town people.
"That's the majority of our business," Jane said. "It's not just the hometown thing like you'd think."
Jane said even though they advertised in newspapers like The Kansas City Star, much of their advertising depended on people.
"People that come in tell other people," she said. "A lot of our business comes from word of mouth."
Harris said the interest in collecting antiques was growing because of the Internet and TV shows like the Antique Road Show. Because good antiques expensive and hard to find, he said many people are also have an interest in collectibles and nostalgia items.
"People like to collect things they can relate to," he said.
Jane said much of what people collect as antiques was based on opinion.
"You have to be aware of everything," she said. "A lot of people are tending to go to the 50s and 70s because that's what's old to them."
Harris said he sees a decline in business with the rise of the Internet and its ease of finding rare items.
"The Internet business has hurt 15, 20 percent," he said. "People don't even have to leave their house to find what they're looking for.
"I imagine to survive, I will have to go on the Internet," Harris said. "I don't really want to. I'm an old man and it's frustrating to me."
Jane said even though they feel the effects of the Internet, she thinks antiques stores will always be around.
"You're still going to have people who like to get out and dig and search for things," she said.
Leland said much of the fun of getting out and looking for antiques is looking for the good deals.
"It's the fun of bargaining," he said. "I don't even like people that come in and pay the price that's on it. It's all about the bargaining."
He said in order to compete, they keep prices reasonable.
"We try to keep our prices down," he said. "We've got that low range kind of stuff."
Leland said the unpredictability of the antique business is be a struggle.
"It's tough to get two good days in a row," he said.
It's not uncommon to make $2000 one week and only $400 the next, he said.
Harris said he agrees the unpredictability makes the antique business difficult.
"This business is just funny," he said. "It's hard to judge from one week to the next."
In order to give out-of-town people a reason to visit Eudora, Harris said he would like to see more antique stores in the downtown area.
"I'd like to see some trade drawn into downtown," he said. "We're trying to survive and this is something to market.
"I'm a fourth generation Eudoran," Harris said. "I'd hate to see downtown fall into decay or disrepair."