Relay for Life important to Laws family
The location of Eudora's Relay for Life means more to Julie Stewart than it does for most participants.
Laws Field, which is where the relay will be on Friday, is named for Stewart's father, Don Laws.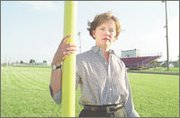 Laws, a teacher and coach in the Eudora district for several years, died in 1992 from a type of cancer called Lymphoma.
"Ironically, my dad did die of cancer," Stewart said. "So, it's very sentimental to me and my family."
She said just having the field named after her father was an honor.
"It just meant a lot to us, more than people realize," she said.
Marilyn Laws Porter, Stewart's mother, said it's a source of pride to have Laws remembered in the community.
"Knowing his name is there and people still remember him is a very touching thing for us," Porter said. "For us to be there and commemorate him is very special."
Even though the field is usually used for sporting events, Stewart said her father would be pleased with the relay.
"He would be honored that the field is being used to fight for causes, like cancer," she said.
Stewart, who has been involved in Eudora's Relay for Life for three years, said she became active in the relay to make a difference.
"First and foremost, I hope that we see a cure for cancer," she said. "I hope there will be a time when no one will have to watch a loved one die from it.
"Also, when my son asks me what cancer is, I want to be able to tell him never mind, it's not an issue."
This year, Stewart is in charge of corporate sponsors, prizes and has organized two teams, Colleen's Campers and Hunting for a Cure, that will participate in the relay.
She said the relay, especially during the luminary ceremony, can be an emotional time because it honors all cancer victims.
"It's a reminder for those who have made it and those who haven't," Stewart said.
Because so many people are affected by cancer, she said it's important to know the relay is for the entire community.
"Instantly people think the worst because cancer kills people. That's the bottom line," she said. "But the relay symbolizes all of those who have made it. Cancer doesn't kill everyone."
Porter said she encourages everyone to come show support, even if they aren't participating on a team.
"The support is as important as the money," she said.
Even though she has lost not only her father, but also other relatives to cancer, Stewart said she is involved in the relay to help those who are living with the disease.
"It's really important to me this year," she said. "Not only am I honoring those that I've lost, I'm also involved for the living.
"I really want to try to make a difference for the ones who are alive."