City pool to undergo improvements
Each year the Eudora city council budgets money to help with the upkeep of the city swimming pool.
This year, the council is looking into using some of that money for repairs beginning after the pool closes at the end of the summer.
Pat Dardis, city council representative for the Eudora recreation commission, said estimates for repairs to the drainage and circulation systems have already been looked at by the city council.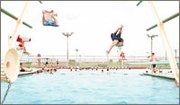 "We have money budgeted for this year and we'll have to combine it with money budgeted for next year," Dardis said.
The estimate for the repairs is $185,000. The city budgeted $125,000 for capital improvements in 2000. He said money for the 2001 budget will need to be approved by the council before repairs can begin.
"We are going to try to get other estimates before we establish next year's budget," he said.
The recreation commission has also talked about enlarging the size of the deck on the east side of the pool, Dardis said.
"Right now we don't want to start on that, or get too far down the road on that, until we make the necessary repairs," he said. "We're going to hold off on that until possibly next year."
The city council also annually budgets money specifically for pool maintenance because pool admissions don't cover all of the costs.
"With the cost of lifeguards and the cost of maintenance of the pool and given what we charge for admissions, the pool typically loses a little money each year," Don Grosdidier, recreation commission president, said.
The lifeguards' salaries are covered by admissions, Grosdidier said, but the rest of the pool maintenance is paid for by budgeted money.
Last year, the pool made $33, 760 from admissions. Staff costs were $31,762. Maintenance costs came to $16,623.
Grosdidier said the maintenance costs include utilities, concession supplies, publications, chemicals and other pool supplies.
Even though the pool doesn't always make money, he said it tries to come out even at the end of the summer.
"Out intent is to try to keep things as close to as breaking even as we possibly can," he said.