Eudora steps forward in fight
With 24 teams, corporate sponsors and other money still coming in raising nearly $36,300 for the fight against cancer, community members pullrd together for the third annual Relay for Life.
To jump start the event, a symbolic kick-off lap of cancer survivors followed a spine-tingling performance of the national anthem by Cailan O'Grady.
As they took their steps around the Laws Field track, the bleachers were filled with people clapping to the beat of a ragtime performance of the classic "When the Saints Go Marching In," by the Junkyard Jazz.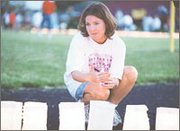 After the survivors lap, team members began their nightlong walk symbolizing a cancer patient's struggle. While the band played on, team recruitment leader Marilyn Laws-Porter sung along. As daughter-in-law Kathy Laws passed by, Laws-Porter couldn't resist.
"I'm embarrassing my daughter-in-law," she said from the stage. "Hey, I've been wanting to do that all my life."
At 9 p.m., luminaries in memory of deceased and living loved ones were lit and placed around the track. At one end, several luminaries spelled out the word "hope" in 10-foot high-letters.
Judi O'Grady spoke to the crowd on the importance of raising money for cancer research. Her daughter, Brooke, has Hodgkin's disease and continues the fight against the disease in her body. Currently, there is no cure, only treatment.
"It is so important to her, for she's seen so many babies and children suffering from cancer," Judi O'Grady said. "We need more research and we need it now."
Without a doubt, the relay's mood was festive, but yet solemn.
See Relay, Page 6A
While the relay's cause was great, the teams worked to keep the mood happy as they continued on through the night. Each team competed for top prize of having the best team theme. The winner? A group of clowns from Eudora High with the theme "No clowning around with cancer."
Others included Eudora West Elementary's team, "Fishing for a cause." Fourth-grade teacher Angela Holmes said most people have known somebody affected by cancer, with the relay a good way to help fight it.
"I think it's a good cause. It just gives us hope that someday they'll have a cure," Holmes said.
Kevin Pennington joined the "House of friends" team after an invite from friend and cancer survivor Rose House. He too has known many people affected by the rampant disease.
"I know way too many people that it's affected," Pennington said.
But as the night grew on, the teams cuddled in blankets, encouraged walkers and enjoyed refreshments throughout the evening.
For Roberta Lehmann, the treat was her friend's great-tasting cookies.
"Susie Brown made some damn good cookies," Lehmann said. "Got milk?"
As the sun sit on the Eudora community and the teams gathered for one last closing ceremony they could all stand proud, some with sore muscles, that their efforts were not in vain. Sherry Moran said she was amazed the relay was able to raise the amount of money that they did.
"That's what I'm impressed with this year is that we've raised the same amount of money with half the amount of teams," Moran said.