Little Campers
Grade-schoolers take part in hoops camp
The Eudora High gym seemed to be in a state of chaos. There were about 35 third- and fourth-grade boys scattered across the basketball court, each hurling basketballs at the hoops, nearly seven feet above their heads.
But one good blow on his whistle and Chad Eshbaugh's little students lined up at the end of the court, eager for their next instruction.
Hundreds of first- through eighth-grade boys and girls filled the gyms this week for four days of basketball camp, where they worked to be stronger, faster, better ball players while learning teamwork, fundamental skills and a love for the game.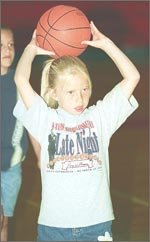 "Their very first experience with the game of basketball is right here in this gym during the summer, and we want to make it as positive as we can by focusing on the things that make basketball fun," said Eshbaugh, head coach of Eudora's varsity boys team. "I think more than anything else, they leave here thinking 'Hey, basketball is a lot of fun,' and hopefully they take away some basic skills from the camp that can make them better players."
Bob Sailler, coach of the eighth-grade girls basketball team, said the camp was designed not only for the children to have fun but also to build on their strengths and to recognize and improve their weaknesses.
"We want to pinpoint areas for improvement and work on them and turn them into strengths," Sailler said. "We want them to work on their weaknesses over the summer. This camp gives them the opportunity to see what they're good at but also shows areas where they could improve."
Eighth-grader Julie White said she attended the camp because she hoped to make the first string eighth-grade team in the fall and she thought the camp would be a good place to learn the skills she needed.
"I came to improve my skills, because I like basketball and we get to hang out with our friends," White said.
Sailler, who said he was impressed with the turnout at the camp this year, said summer camps allowed athletes to improve on many levels, including commitment to the game.
"I think it shows a dedication to the sport and a dedication to their teammates, showing that they want to get better," Sailler said.
He said the camps were also beneficial because they provided the structure and discipline that those who practiced on their own were missing.
"It's good for the girls to be pushed," Sailler said. "Out on their own, they don't push themselves the way coaches can push them."
The camp also gave the children a glimpse of what could be if they chose to pursue the game of basketball.
Matt Fisher, senior point guard for the Eudora Cardinals, was among several high school players who helped coach the camp, which was divided by age and gender.
He served as both a teacher and a role model for the childrenshowing the younger players that there was something for them to work toward and look forward to.
"I've been to camp every year and I really looked up to the older guys," said Fisher who stands nearly twice as tall as the tiny third graders. "Just having them around was fun."
Eshbaugh said, when all was said and done, as long as the children learned basketball was a fun game, the camp succeeded.