Coach makes all-star debut
Pads are popping, sweat is flying and Aaron Barnett couldn't be happier.
It's only June, and Eudora High School's head football coach is working with players he has never coached before.
At 7 tonight, Barnett will take the field at Shawnee Mission North High School for the Greater Kansas City Coaches Association's Coca-Cola Metro Classic Battle of the Border, an annual all-star football game that features last season's best senior players and coaches from the Kansas City metro area Kansas versus Missouri.
The Greater Kansas City Football Coaches Association sponsors the game and selected Barnett as the Frontier League's only representative.
"I'd rather have a kid picked than me, obviously. But I feel good for the city and for the school," said Barnett, who has coached in Eudora for two years. "I think if the Kansas City schools are noticing, that says there's some good football being played here."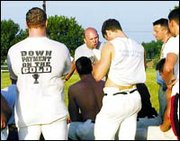 Barnett will be one of 10 coaches and will work specifically as an assistant offensive line coach along with Kevin Kopecky, the head coach at St. Thomas Aquinas.
"Anytime I can get out there and the pads are popping, I like it," Barnett said. "And that's my favorite position to coach. I don't have to worry about making the decisions of the head coach so it's just for fun."
Glenn Percy, head coach of Shawnee Mission East High School, will have to make those tough, head-coaching decisions tonight for the last time. Tonight's game will mark the end of Percy's 43-year coaching era.
"You've got to retire sometime," Percy said. "After 43 years, it's time to sit back and watch."
But not before he shares some of his coaching techniques and strategies with the coaches he is leaving behind including Barnett, who, at age 30, is the youngest coach in the all-star game.
"I just think that anytime you can learn from someone with that much experience, it's beneficial," Barnett said. "I'm gonna be a better coach because of it."
Percy, who has been coaching more than a decade longer than Barnett has been alive, said he thought Barnett would be successful because of the attitude and drive he brings to the job.
"It just takes a certain bull-dog mentality, a certain toughness and courage," Percy said. "He's got that toughness, he's intense and the kids respect him. He's going to be a very successful coach."
Barnett said his job in this game was made easier because of the talented players he was coaching.
"Most of the time, when you're picked for an all-star game, you're pretty good. And you don't get pretty good by not having a good work ethic and not being pretty coachable," Barnett said. "So it makes it easier on our part. It helps when they know what they are doing already and they've got a good base."
As for the game at hand, Barnett said prospects looked good for Kansas, which has won six of the last eight contests, even though Missouri has more schools and therefore more players to choose from.
"It always seems like on paper Missouri is a lot better, but come game time Kansas comes out on top," Barnett said. "The guys are excited and hopefully we come out on top."