Kimberlin to juggle one more ball
New softball coach taking on fourth job
As if juggling three balls wasn't enough, Cara Kimberlin will throw a fourth into the mix next spring.
Although she is an assistant with three other sports teams in Eudora, next spring Kimberlin will take over for Gretchen Freeland as the head softball coach at Eudora High adding a fourth coaching position to her workload.
"This spring was the first season I haven't coached since high school and it kind of made for a long spring. I really missed it this year," said Kimberlin, assistant coach for Eudora Middle School's girls basketball and volleyball teams as well as the EHS girls basketball team during the 1999-2000 school year. "I'm ready to go now, but I have three sports to get through first."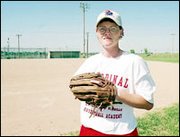 But, in adopting the team that finished 6-15 last season, the ready and eager Kimberlin will have her work cut out for her and she knows it.
"I know there is a lot of room for improvement with this program," said Kimberlin, who has worked as an assistant softball coach at the college level for five years. "There is a lot of teaching and learning to be done. I want to see them have success."
That learning will begin with the players' attitudes,. she said she would stress offensive aggressiveness, both at bat and on the bases by implementing more bunting and taking advantage of hit-and-run situations.
"Hitting is a big mental game and you've got to preach to kids that when they step into the box, they're in control," Kimberlin said. "I am kind of an aggressive coach and I really want to bring an aggressiveness to the kids."
Aside from getting the players working as a unit in the spring as well as in the off-season, returning to the fundamentals and instilling an aggressive drive in her players are the key factors in Kimberlin's master plan.
"This is the building of a program and my goal is to build a program that's competitive," Kimberlin said. "It may happen this year, but I don't want to make any promises."
Kimberlin will not go at this alone. Although Freeland stepped down after recently accepting the head girls basketball coaching position at EHS, she will stay on as Kimberlin's assistant.
"Coach Kimberlin has a lot more experience and I think she will be beneficial to the program," Freeland said. "I like softball and I like working with the girls. I will still be the assistant under Coach Kimberlin, which I am really excited about."
The idea to bring Kimberlin on as the head coach was not a new one. Kimberlin said that when she was hired last year it was something that had been discussed from the beginning.
Along with Freeland and assistant coach Erin Barnett, five seniors will be returning in the spring. Kimberlin said she hoped seniors Melanie Smith, Roshena Niedens, Wendi Burke, Betsy Hickman and Ashley Kraus would use their experiences to help the new players.
"I expect a lot of leadership out of them," Kimberlin said. "I hope they take some of the younger kids under their wing and help them out too."
More like this story