Business owner warned for 'unsightly' lots
Larry Cyr is a Eudora business owner with long-standing Eudora roots. His father, Thomas, owned Cyr's Auto Repair from 1976 to 1994, when Larry took over for him. Cyr's business in not unlike most in his field. His repair work often leads to cars sitting for a while awaiting his expertise to fix them. His tire drop-off site provides a service for Eudorans by disposing of them for a small fee. But after 24 years in business, Cyr claims city officials are now harassing him. Their complaint: his business is too messy. The penalties could possibly include fines and arrest.
Cyr runs two businesses, his auto repair shop at 1006 Ash Street and his used sales lot at 411 E. 10th street. After Cyr's ex-wife made a complaint to the city in November 1999, city prosecutor Gail Larkin and police chief Bill Long investigated his property in January.
Shortly after, warnings were issued to Cyr that his properties were in violation of Eudora public codes concerning "offensive or disagreeable" substances on his property. The substances included an excess of cars, motors and other auto repair items visible from the street. His used car lot filled with excess tires was also in violation.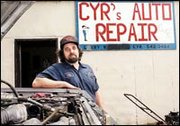 The solution presented was to put up fences and paint his buildings to appear more acceptable. Cyr believes he is being harassed, and judged on appearance.
"I just feel like I'm being picked on," Cyr said. "Who draws the line as what is unsightly and what isn't? That would be like me going to their house and saying 'Hey, you've got your trash cans in front of your house. You need to put them in back because they're ugly.'"
Cyr said his agreement with Larkin was that he would erect fences on both properties, paint his buildings and help maintain the amount of tires on his property. When he's visited to check on his progress, Cyr said, he is judged unfairly. With the offense being cited from January 8 to the 18, he feels he's being judged unfairly for an action of the past.
"I don't think there's a single car here since that problem in January," Cyr said. "All those cars have left and more have come to take their place."
The car parts left around his shop are part of the business, Cyr claims.
"There might be a couple of motors out there tomorrow, but it doesn't mean there's not a tow truck on its way," he said.
He also claims with the tires, he has no choice. The company he uses to dispose of them comes for no less than 100 tires. He has caught perpetrators trying to dispose of tires without him knowing on weekends when employees aren't around. With the aid of a surveillance camera, he was able to curb this. But, the damage was done.
"I was having problems with homeowners cleaning up around their house then dropping off their tires at my place," Cry said.
Two days after the January 7 offense date, the company came and took the tires he had reached 100.
"On January 9, that company came out and took every tire in that place" Cyr said. "I had to get rid of the tires before I could even start building the fence."
Cyr said he has received letters from the city stating he could be fined and a warrant issued for his arrest if he doesn't comply. An action he feels is unnecessary for his "unsightly" property.
"I just don't think that's the way they ought to handle that," he said.
But rules are rules.
Larkin said Cyr has had ample time to clean up his property, with the case dating back to January. City council members, the police chief and city prosecutor are given the power to determine what is considered "unsightly" regarding the Eudora codebook.
"The approach that I take is not to make money for the city, but to clean up for the city," Larkin said.
Larkin said the case is not unique; there are other nuisance complaints in Eudora of a similar nature.
"I think I'm working on probably about 15 to 20 cases like this," Larkin said. "Some of them major, some of them minor. It's runs the whole gamut."
Cyr is the second Eudoran to receive a complaint and the first to ever reach this stage.
Though he's received threats of an arrest and possible fine, Cyr insists he's working as fast as possible to resolve the situation.
"I would like to finalize a way to get this figured out once and for all," Cyr said. "I could be doing a lot more productive things than fighting city hall."