Hard at Work
Eudora lifeguards working on more than a good tan
Sarah Hinman can be found working at the pool this summer.
But it's not a tan she's working on.
Hinman is the head lifeguard for the Eudora city pool, and it's a job she relishes.
"I like this job because it's just a summer job," she said. "It never interferes with school or sports."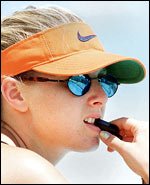 Hinman, who has been a lifeguard for four years, said she decided to work at the pool because she enjoyed the water.
"I grew up taking swimming lessons, so I'm comfortable around the water," she said.
Hinman's duties include more than sitting in a chair by the pool watching the swimmers. She said she has to help clean the pool, check the water, work the concession stand, settle disputes and act as an authority figure.
"Because I'm head guard, I'm the first one who takes over the staff when the assistant manager is gone," Hinman said.
To become a certified lifeguard, Hinman said, she had to complete a 40-hour course through the American Red Cross.
"In the course we learn swimming techniques, rescue holds and rescue breathing," she said.
Now that she's certified, she said, she has to take a CPR renewal class every year and a life saving class every three years.
Lifeguard Jenny Hime said part of what makes Hinman a good guard is her interaction with the swimmers.
"She knows her job well," Hime said. "She's a fun guard. She's good with the kids. They just seem to love her."
Many people have told Hinman they didn't think she had a very hard job, but she said lifeguarding can be very demanding.
"It's not as easy as it looks," she said. "I'll admit, the responsibility may not be as constant as other jobs. But when things happen, the responsibility becomes very high.
"We're guarding kids' lives. People don't understand that accidents happen here daily."
Hinman said there have been times when she's had to go in the water to save a swimmer.
"The very first year I was a lifeguard, in my second week on the job, I had to rescue someone," she said. "I was prepared and I did fine, but I was a nervous wreck the rest of the day. It was pretty stressful."
Hinman said despite the stress, lifeguarding has its benefits.
"The pay has improved so much since I started and I can work lots of hours, so I make quite a bit of money," she said.
"Plus, I get to work outside all day."