Summer hot streak
Cardinals off to quck start in Frontier summer league
Practice makes perfect, and the Eudora High boys basketball team is getting a lot of that this summer.
About 20 players from the Cardinals play in a summer league against other Frontier league schools in Ottawa on Thursday nights.
This Thursday the 5-1 team will face Louisburg at 5:30 p.m. and Anderson County at 7:30 p.m. at the Ottawa University gym.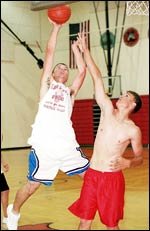 The double-headers at are designed to give the athletes more game experience at the varsity and junior varsity level during the summer when practice is usually an individual effort, said Chad Eshbaugh, head coach for the Eudora High boys basketball team.
Eshbaugh said the program, which allows the student-athletes to play together but does not allow the high school coaching staff to be involved, had helped the team in the past because of the experience it gave the players.
"It's really beneficial to the guys," Eshbaugh said. "Anytime they get the ball in their hands it's good. Nothing but good things can come from that."
The extra touches are just what they need.
"In basketball, you just gotta play year-round to compete in the season," said junior center Wes Hinman, who is a returning starter to the Cardinals. "It's really a preview for the season and since we've only lost one game to Ottawa, I think we're going to have a good team this year."
Hinman said the league helped because it gave the players a glimpse of what they would be up against in the winter.
"These will be the teams we play in the season," Hinman said. "You get to know the players and the how they play and what kind of offense they run."
The extra games also help the players get motivated and ready for the upcoming season. Eshbaugh said he expected every player on next season's relatively young team to earn his minutes game by game.
"It's a competition-based system," Eshbaugh said. "They have to earn their minutes throughout the season."