Tractor club pulls in members
Mini-tractors emphasis of local group
When Jim Grems helped an elderly Eudora woman fix up her house, he had no idea his payment of a miniature tractor would lead him to a new hobby.
In fact, Grems had never heard of a mini-tractor and was unaware of its purpose, but soon discovered the little-known piece of garden machinery would unite him with some new friends.
Seven years and 10 tractors later, Grems is a member of the Eudora Tractor Club. The club of mini-tractor owners in the Douglas County area gathers for scaled down versions of tractor pulls, trail rides and games with obstacle courses.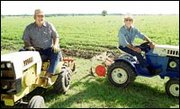 Of course, the tractors are also good for gardening.
"It's a heck of a lot better than following a mule or a horse," Grems said.
Alhough they resemble modern riding lawnmowers, Lawrence resident Dale Barnard said the tractors give an edge to a gardener. With die-cast engines and bodies and planting, tilling and mowing tools to boot, Barnard said the tractors can handle a five-acre spread of land.
Beyond their traditional functions, Barnard said the attraction was more of a connection with nostalgia, a connection felt throughout the 20-member group when it gathers with tractors in tow. Grems said the club had no official meeting date, but the sooner the better.
"It's just a bunch of guys hanging out and no one's the boss," said Barnard, a longtime friend of Grems. "The more we can get together, the more fun we have."
Grems warns getting involved in this hobby may require a few trips to the bank.
"This game ain't cheap," he laughed. "We usually don't stop until we're broke. We spend more money on this stuff than most people would."
Besides getting together and riding for fun, the group also likes to help others. Barnard said an elderly Lawrence woman once wanted a garden, but was unable to do some of the work needed to get it started. The group came to her assistance by tilling the ground and planting seeds, providing her with the garden she desired.
"We're just good Samaritans for the garden," Barnard said.
The club makes a good retirement activity, too.
Barnard is "79 and I'm 61, so we've both got nothing better to do but play around with these things," Grems said.
Barnard said he had met several people who have shown interest in the tractors, but didn't know how to get started. He said the Eudora Tractor Club was just the group to get them started.
"It really shows that a whole lot of people are interested in this, but we've got to get it to them," Barnard said. "They just haven't found the thing to do. They just don't know they can come to us."