If Caleb Hines wants to become a professional bull rider in the future, he's learning pretty early in life the value of a buck.
The 8-year-old Eudoran began his rodeo experience when he was three by "mutton busting," or sheep riding. Similar to bull riding, mutton busters wear the same equipment, although on a smaller scale and try to hold on for six seconds and not get bucked off.
Grandfather Carl Hines said much of Caleb's interest was passed down through his own involvement with rodeos.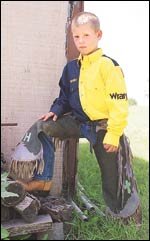 "I've been a big fan of rodeo all my life," Carl Hines said.
"Right from the time that he could talk he would tell me he was going to be a bull rider."
While mutton busting may not sound like the most difficult sport, it does provide adequate challenge for the younger, less experienced rider.
"They just come out and they run like mad," Carl Hines said. "A lot of times the sheep will stop and the kid will go right over."
Upon turning 8, Caleb Hines was bumped to the next category where young riders take on steers. Caleb said the new challenge of a steer is more dangerous than sheep.
"There's one mean steer that I don't like," Caleb Hines said. "He tries to run me over."
Through Carl Hines said his grandson is nearly "fearless" at the arena, even Caleb Hines admits there are times when an injury can make the next ride scary.
"After I get hurt real bad it kind of is," Caleb Hines said.
But, a good rider always perseveres to be the best.
"There's been many, many, many times when he said 'I'm never doing that again,'" Carl Hines said. "Then before we'd get home he'd say, 'When's my next rodeo?'"
To date, the young Hines has won 12 buckles for his achievements, including rookie of the year and a finals champion award in 1999 his first year of calf riding.
Caleb Hines is active in baseball and gymnastics, keeping him limber for his back-breaking sport.
He attends the Homestead Rodeo School, Olathe, learning techniques to improve his riding. Dedicated, he never lets his love life interfere with his work.
"Cowboys don't have time for girls, that's what he tells us," grandmother Joyce Hines said.
Though he's been out of rodeos after a minor fracture sustained while riding, Caleb said he hopes to get back in the saddle soon.
"I'm ready to kick butt," he said.