Look out! Students take the wheel with drivers' education course
As 15-year-old Lindsey Abram exits an angled parking space at the Eudora post office, she carefully checks her rear view mirror for traffic. Her seat belt buckled, she pulls out slowly, checking over her shoulder for approaching cars. Appearing calm, the young driver said while this experience is educational, she is apprehensive at the same time.
"I'm sorry if I kill you," Abram jokes to her passengers.
Free from the parking space, she puts the car into drive and continues down Main Street.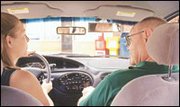 "This is great," Abram said. "This is joyous."
"You should keep teen drivers off the road," said fellow classmate Megan White from the backseat. "Especially her."
Abram and White are among 89 Eudora High students taking drivers' education this summer through Eudora High School. Larry McPherson, EHS activities director, teaches the course with three others and said the purpose is to teach students basic driving skills.
"In class we try to give them basic situation and how they should react," McPherson said. "You never know how they're going to do with that."
Students attend classes in Eudora Middle School industrial arts building, reading from textbooks, working on study sheets and listening to lectures. A 37-year veteran teacher of drivers' ed. with 32 years at EHS, McPherson said much of the learning begins in the classroom. Students must pass 80 percent of the work to pass the course.
"Drivers' ed has changed a lot after 37 years," he said. "It is strictly competency based."
Drivers such as Abram apply classroom teaching in a controlled environment as McPherson instructs fundamentals on parallel parking, merging traffic and U-turns as they drive through town.
In case of an emergency, an extra brake is available on the specialized cars for the instructor to bring the car to a halt. The cars are leased through Laird Noller Automotive, Lawrence.
"Yep, it's a chicken brake," Abram said. "When he gets scared, he uses it."
The brake, McPherson said, has been a lifesaver in some situations. While teaching in Kansas City, Ks., a student signaled right but turned left in front of an oncoming van. He managed to stop the car, thanks to the chicken brake.
"The van went in a drainage ditch to avoid us," he said. "The driver and the parents never could understand why I flunked him."
In Kansas, 14-years-olds can obtain a learner's permit and must drive with a licensed adult for 50 hours, 10 being at night as adults log a teenager's time behind the wheel. Drivers can then can obtain a restricted license, permitting driving to and from work and school without supervision. At 16-years-old, the license changes to unrestricted. Farm permits are also issued at 14-years-old to students who have farm related work or drive from rural areas to school.
McPherson said few students already have a license, but passing the course can help students obtain it a little easier.
"A very small percentage have their actual license, " McPherson said. "So that 's a big plus for them. Half of our students haven't' driven when they come and the others have bad habits."
Completing the course, drivers are eligible for a good driver rating lowering the cost for teens. If a driver receives a ticket or is in a wreck, the rating is dropped. Aside from license or lower insurance, McPherson said he hopes students will learn to be safe.
"There's a big discussion going on nationwide on whether driver's ed. is helping," he said. "I think it is, otherwise I wouldn't be teaching it."
The course, which began June 13 running though July 18, will keep McPherson and his three aids busy driving begins at 7 a.m., classes at 8 p.m. with both ending at 6 p.m. weekdays. An overall experience for the veteran teacher.
"I've been up on the curbs and in the wrong lane a couple of times," McPherson said. "I just try to stay alive in the summertime."
More like this story