Lucky sevens
Morelan shows he's ready for fall; Cards take third
With a young quarterback ready to step into the varsity slot, last weekend's seven-on-seven tournament was just what the Eudora Cardinals needed.
The pass-only games gave Ronnie Morelan practice with play-calling, extra snaps and, most important, a lot of throws.
"It pretty much sets up my season for passing," Morelan said. "I think it helped me learn what my receivers are going to run and what receivers can catch the ball and get open faster."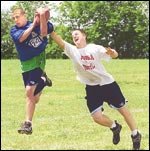 Eudora coach Aaron Barnett, who couldn't "coach" the team because of high school regulations but helped officiate the games, said he saw improvement in Morelan as the month-long season went on.
"It helped him a lot. He's got a long way to go experience-wise," said. "But he definitely got better because of it."
Morelan, a Eudora High School junior, made a couple appearances in varsity games last season, but played most of his minutes for the junior varsity team. Despite only a few fourth-quarter varsity showings, Morelan said he didn't feel much pressure stepping onto the varsity field.
"I don't think it's really a big thing," said Morelan of the added pressure. "I am used to having pressure and I have been playing quarterback for a long time."
Although he hasn't played many actual varsity minutes, Morelan said he didn't feel inexperienced because he will be playing with the same core group of guys he had played with for the past few seasons.
But the seven on seven league provided as close to real-game situations as possible, and gave the young quarterback a taste of varsity football.
"The part that's realistic is the actual passing with the receivers out there with plays to run," Barnett said. "The part that's not realistic is that they're gonna have a live person coming at them and not a stop watch."
Morelan agreed and said that even with modified rules, such as allowing only four-seconds to pass, he didn't think the offensive side of the game was realistic for the quarterbacks.
"In a game, it's just not that slow," Morelan said. "And there's people putting a lot more pressure on you so it's harder to throw. Plus, pads make a difference when you throw."
Morelan said one of the hardest parts of seven on seven, and one of the things he wanted to work on during the season, was getting used to throwing the ball more often.
"I'm really not used to throwing the ball. We pass every once in a while, but we mostly run," Morelan said. "I like throwing, but I prefer a running game because we run an option, and it gives the quarterback and the running back a chance. They can't stop it really if you do it right."
Morelan said the seven on seven games helped get him ready for the season and confirmed again that he had a good supporting team behind him.
"I'm confident with most of my receivers, and my running backs amaze me sometimes," Morelan said. "I think we'll do pretty good this year."